Technology innovation and development have brought mankind into a new era in which traditional production and lifestyle have been profoundly changed. In the 21st century, smart IoT technology has begun to permeate almost every aspect of our lives, and the sports and fitness industry is not an exception. The IoT is a global technology trend, which combines everyday devices with the power of the cloud to create limitless opportunities for businesses. This article will dive into the IoT beacon technology in the sports and fitness industry.
Introduction of IoT beacon in sports and fitness
The Internet of Things typically referred to as IoT, is a global technology trend that combines everyday devices with cloud computing to create endless opportunities for businesses. The global beacon market size is estimated to achieve a compound annual growth rate of 38.6% between 2020 and 2030. While the market size was valued at USD 1.35 billion in 2019, this is forecast to reach USD 49.31 billion by 2030.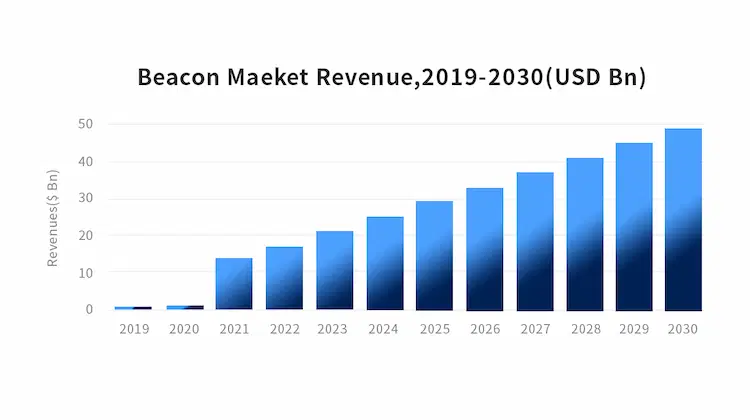 The beacon technology is conquering the world of sports. Athletes, sportspeople, sports fans, and venues – all are looking to take advantage of the benefits of connected technology. Everything smart beacon offers can be used for better improvement of user experience, including various sensor beacons, advanced analytics, remote monitoring, asset tracking, and equipment maintenance. All of these technologies are at the heart of the future of smart wearables, connected devices, sports gear, and smart stadiums.
The shift in consumer expectations of sports and fitness
Imagine you wake up your day to exercise, or start with yoga or meditation, with a fitness band or smartwatch tracking the heartbeat, and speed, calculating distance, or using a meditation guide to help focus on breathing. All these smart fitness trackers with sensors and beacons are just components of IoT. To improve our performance, more and more smart devices are leveraged to collect and analyze data. With smart fitness tracker devices like this, consumer expectations are limitless.
Using small gadgets like smart wristbands and watches, users can monitor and analyze their vital signs in real time. Whether reading blood oxygen levels, detecting spikes in heart levels, tracking sleep stages, or generating electrocardiograms, a more personalized fitness approach could be available to users. Aside from fitness tracking, IoT makes it possible to connect us to global sports events via remote spectating, offering an immersive fan experience. Immersion in stadiums and arenas is no longer just a science fiction movie concept, but a reality.
From the standpoint of sports business vendors, IoT makes pretty much practical and economic sense. As long as sports remain a charm of the masses, the business will always have the opportunity to profit from it. The sports and fitness sector has had to find innovative and novel ways to satisfy the growing demand of customers for enhanced personalization. Businesses need to embrace and integrate IoT technology into fitness and sports to keep up with the expectations of consumers.
4 applications of MOKOBlue IoT beacon in sports and fitness
If properly integrated into the current sports and fitness industry, beacon technology can add a lot of value. Let's take a look at 5 applications of MOKOBlue Bluetooth beacons in sports and fitness.
Real-time location tracking
Whether you take a morning jog in the park or just inside the stadium, smart beacon devices offer real-time location tracking. For athletes, smart beacons are becoming one of the best companions to help track their performance, and extensive information and statistics about the user's training course will be fed back to users and coaches in real time. Bluetooth beacon tracking can not only offer a self-coached way of training but detect critical conditions and save lives.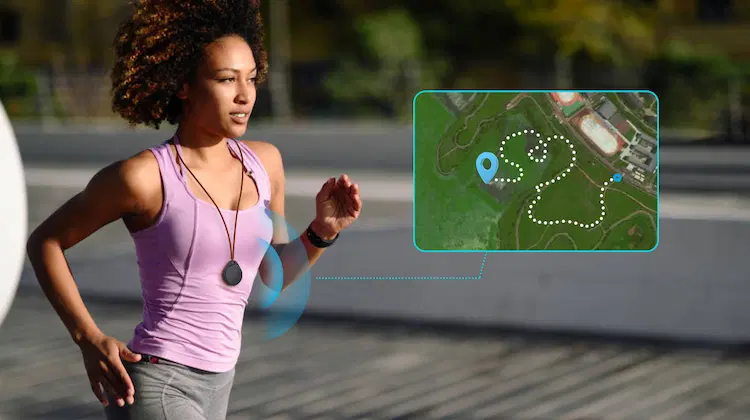 Enhancing athlete training and safety
One of the biggest concerns for every athlete and coach is the health and performance of the players. Organizations have invested millions of dollars to strengthen athlete training and prevent serious injuries to athletes. Panic alarm systems are designed to handle emergency events, in which a panic IoT beacon is used to trigger alarms, and warning messages can be sent through communication systems. As a result, employees and coaches can respond in a timely manner, make relevant analyses, and take appropriate measures.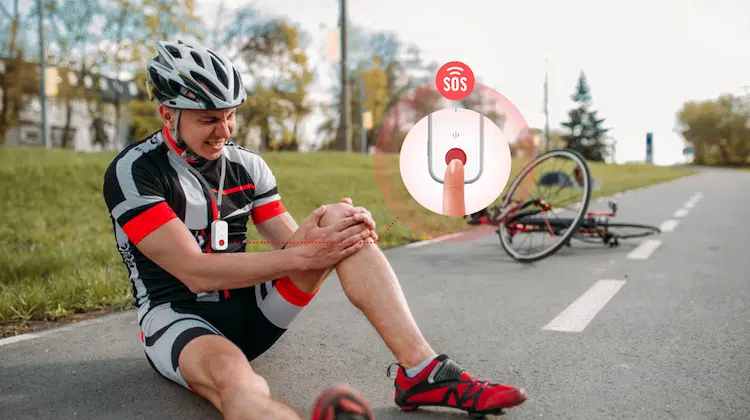 Improving equipment maintenance
IoT beacon technology is increasingly used to improve equipment maintenance. With a smart IoT beacon attached to equipment, notice will be automatically sent if there is any malfunction or necessary repair and replacement, thus extending the service life of the devices. Predictive maintenance is not only applicable for sports devices like fitness bands, IoT bikes, or heart rate monitors but is also available in the preventive maintenance of stadiums like monitoring the status of various heating, ventilation, and electronics systems. Keeping the equipment in excellent working condition raises customer satisfaction levels.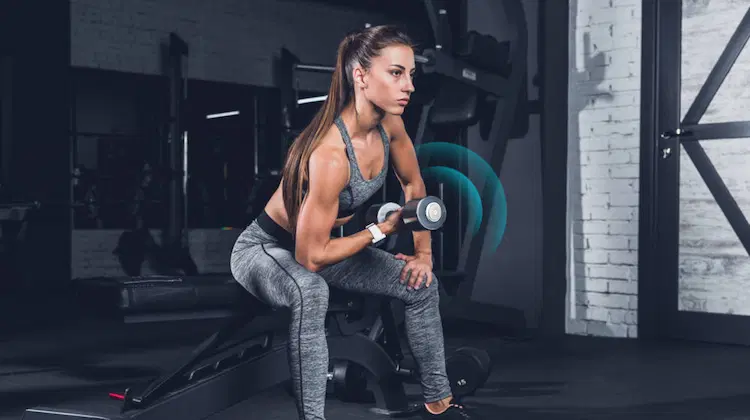 Smart sports stadiums
Smart stadiums, sometimes referred to as connected arenas, integrate multiple sensor beacons, digital signs, and cameras. All the collected data is then better analyzed and utilized to enhance fan engagement and stadium maintenance. Possible steps can be made by smart beacons to boost the experience of fans whether sitting in a packed-out arena or just in front of your living room TV screen. The sports agencies and businesses are doing this by incorporating IoT beacons and high-tech devices to show the audience various happenings within the stadium such as live coverage, stats, and instant replays.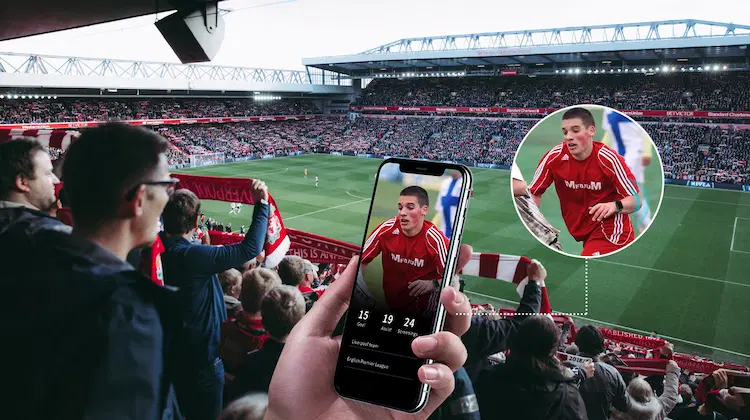 3 other adoptions of beacon technology in sports and fitness
IoT technology comes in different forms and serves a variety of purposes, including professional sports activities and everyday use. By collecting, monitoring, and analyzing consumer data, smart beacon solutions can help improve the performance and progress of users. Below will show some other adoptions of the IoT beacon technology in sports and fitness.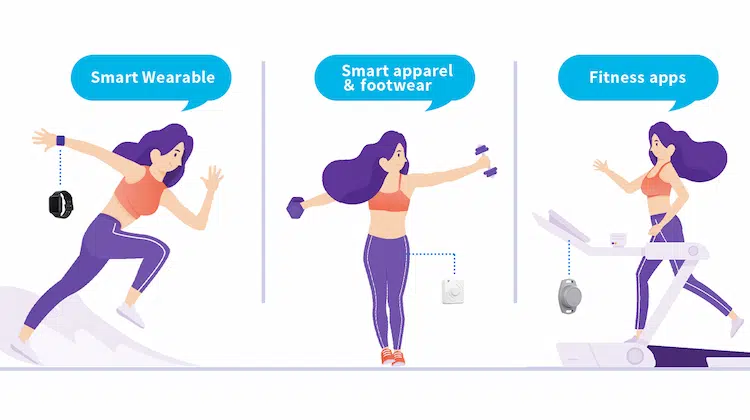 Smart wearable
The integration of wearable and IoT beacon technologies in sports has ushered in a new era of athlete training. Smart wearables embedded with smart beacon modules can be used for performance monitoring and evaluation, as well as for health assessment. These technologies rely on a wide variety of Bluetooth beacon sensors to collect, transmit, and process relevant data, such as biomarkers and other performance indicators that are critical to assessing athletes' physical condition to improve their performance.
Smart apparel & footwear
Bluetooth beacon sensors are widely used to be attached to the clothing and shoes of athletes in order to gather as much basic data as possible for consumers to enhance safety and optimize training. From the user's heart rate to the health level, once the data is collected, it will generate some actionable insights for athletes exercising reference. This can be convenient and practical for those who have no access to a professional coach.
Fitness apps
IoT beacon broadcast notifications without a smartphone, but its integration with a fitness app allows users to optimize exercises, manage calories, and stay healthy. Of course, sharing exercise data on social media or just with friends is also accessible. Whether it's for competition, motivation, or accountability, fitness apps can be your best companion to tailor your exercise schedule based on your body's requirements.
Challenges surrounding IoT sports and fitness
Despite the bountiful benefits IoT beacon technology takes to sports and fitness, still, some portion of the challenges may occur when considering the adoption of IoT solutions. The following part will dive into the three major challenges of IoT implementations in sports.
High cost: Budget is the primary concern when adopting new technologies. Due to the fact that IoT technology is not yet mature in the field of sports and fitness, the price point on most smart devices is too stiff for mass adoption. Perhaps as more technology becomes affordable, adoption rates will increase.
Cybersecurity issues: Cybersecurity issues can be plentiful. And as IoT application in sports and fitness becomes more interconnected, the demand for better internet protection will only increase. IoT solutions must be robust and reliable enough in their design and implementation to ensure the security of all components.
Data privacy concerns: Attention should be paid when it comes to the protection of private data. Sometimes the data can provide real insights into an individual's behavior, health, and relationships. Therefore, it's important to ensure that personal data and privacy will be kept safe and will not be misused.
IoT in the sports sector: future developments
There will be endless possibilities for IoT in the sports and fitness sector. Thanks to the innovations and developments of modern technologies, IoT in sports and fitness will be more visible than ever before. Whether it is competition performance, fitness and leisure, or event organization and content transformation, sports and fitness participation and experience are undergoing profound changes, striding toward digitalization, information, and wisdom.
The IoT solutions aren't a pipe dream whether for professional sports or daily use, and their adoption will bring about a huge difference in sports, giving sports fans and athletes the opportunity to participate in sports in a whole new way. Billions of dollars are being invested in new-age venues and smart sports equipment. It is certain that we're going to see an increased use of IoT technology in the sports and fitness sector.
MOKOBlue will support your IoT beacon solutions
MOKOBlue will deliver reliable and efficient IoT hardware in the field of sports and fitness, tailoring any products and surveillance beacon solutions for your venue to make it more personalized, convenient, and engaging. If you are looking for any IoT beacon solution to enhance the stadium experience, MOKOBlue can be your best bet.