Beacons are noticeable intercontinental gadgets designed to bring attention to a specific point or location. When you clock back to the first millennium, a beacon originated from an old English word that meant "light." Later, things like the lighthouse were used as beacons for port navigation. As time passed, modern beacons like the radio beacons were developed in the 1920 and integrated into vessels as RDFs (Radio Direction Finders). Ever since Eddystone beacon has greatly evolved and combined with other forms of technologies for Internet of Things applications.
Brief History of Beacons
In 2013, Apple released its iBeacon, which was integrated with Apple devices' iOS operating systems. The iBeacons were part of the Bluetooth Low Energy (BLE) devices. It was meant to send unique identifier signals to approaching or nearby phones or tablets. They were used for offline indoor navigation. Two years later (2015), Google released their BLE Eddystone beacon as an iBeacon competitor. Unfortunately, the Google Eddystone beacon platform failed three years later, in 2018.
Before we come to the demise of Google Eddystone, let's know more about it. Read on.
What is Eddystone Beacon?
It's an open Bluetooth Low Energy beacon protocol created and developed by Google and released in 2015. More to being open, it's also multi-platform. This means that you use it as Eddystone iOS and in Eddystone Android devices. Eddystone was built to bring in support for all android devices, BLE compatibles as well as iOS devices, and it has all the official tools to do it.
How does Eddystone work?
There are some similarities in how iBeacons and BLE Eddystone works, though, in Eddystone, there are some extended functionalities.
URL-broadcasts a Uniform Resource Locator (URL) viewable by Bluetooth-enabled devices.
UID- Transmits a short id code time and again.
TML-Sends telemetry data reading the beacon's status and any attached sensors.
EID- It's an added layer of security measure.
Types of Eddystone Frames
An effective Eddystone beacon configuration enables the beacon to send any or all of these frames below. It all depends on what you're using your beacon for.
Eddystone-URL
This frame's main purpose is to offer a way to transmit a URL for it to be detected and discovered by a Bluetooth Low Energy scanner device. The BLE device will then link received and present the right webpage for users. What happens is that Eddystone-URL sends a compressed Uniform Resource Locator of a given site within the beacon transmission allowing mobile devices like smartphones auto-open the web address in a browser right after sensing the beacon packet. The URLs have to be very short due to the limited space in the packets.
The frame also offers power a calibration field similar to that of the UID.
Eddystone-UID
This is the main Eddystone frame comprising of three fields, namely Namespace identifier (10 bytes), and Instance identifier (6 bytes), and power calibration (1 byte). It'll help configure the field directly into the BLE beacon. The instance identifier is meant to uniquely represent a beacon since they have different instance IDs. The power calibration field is used to help calculate the distance between a mobile device and the Eddystone beacon based on the RSSI (Received Signal Strength Indicator.
Eddystone-TML
It's meant to supplement the URL frame or the UID frame. Due to the timelines of information provided by TML being less important, it's not transmitted frequently. The main importance of the Eddystone-TML frame is to give a full report on the health status of the Eddystone Bluetooth beacon. This includes the Beacon's Version, the current temperatures, the current battery level, the Uptime (seconds which the beacon has been powered), and the PduCount (the number of advertising packets the beacon has deployed after being last powered).
Eddystone-EID
This is the frame responsible for the security and privacy of a gadget. During a deployment phase, the Ephemeral ID changes time after time. EID is in some way similar to the Eddystone-UID, but they differ due to EID having a single 8-byte AES-encrypted identifier. This identifier rotates at regular intervals depending on the Eddystone beacon configuration. For your BLE beacon to transmit EID, you have to register with Google's Proximity Beacon API.
iBeacon Frame
Eddystone beacons have the ability to broadcast a standard iBeacon frame. It's typically used by iOS devices to start applications in the background at high speed. After this, the other Eddystone frames are identified and decoded. iBeacon frames can also be used for other application-specific purposes.
Eddystone Advertising Packet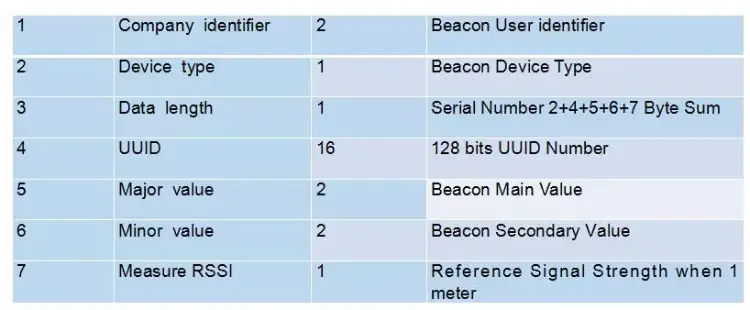 The Eddystone packet format helps define the type of BLE message for proximity beacon notifications. Eddystone beacon has brought a new wave in the world broadcasting advertisements. The Eddystone protocol is made on top of the standard BLE advertisement specification. It is used for different frame types, which can be exploited solely or supplemented to create beacons used for applications like advertising. The Eddystone advertising packets work in 6 steps:
Beacons are deployed
A mobile device detects the BLE signal
A unique id is sent to a cloud server
The cloud server responds accordingly
An assigned notification is displayed on the user's mobile device
The beacon notification drives sales.
iBeacons vs. Eddystone
Apart from being developed by different companies, iBeacons and Eddystone have other differences. Read on to witness the battle between Eddystone beacon Vs. iBeacon.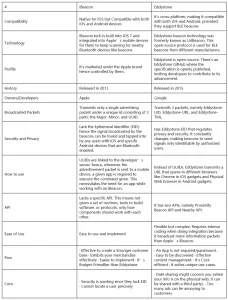 iBeacons vs. QR Code vs. RFID vs. BLE beacons vs. Wi-Fi vs. NFC

UID vs. URL
UID (Unique Identifier) is either an alphanumeric or numeric associated with one entity within a certain system, while URL (Uniform Resource Locator) is the address given to a specific resource on the Web/Internet.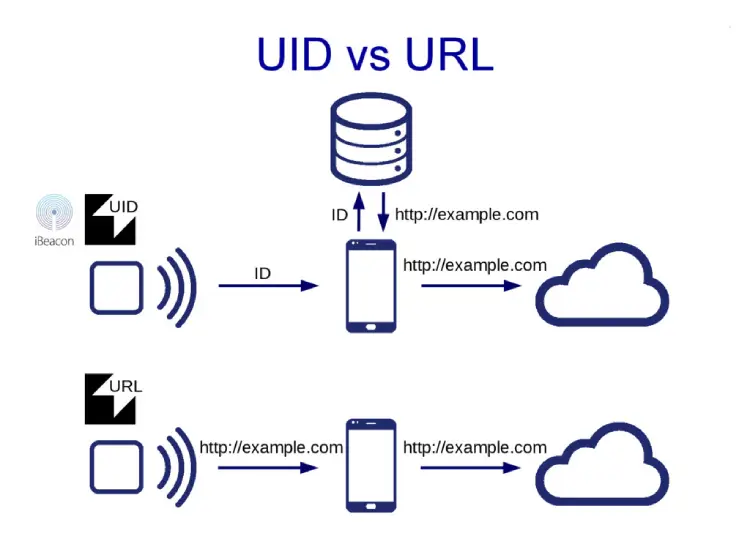 What is Google Nearby? How is it related to Eddystone?
This is a program that enables mobile device users to detect nearby devices or relevant info without the need for an app. It supports receiving/sending messages to nearby devices even when on different networks, bringing users together through multiscreen gaming, sharing files, or even video conferencing, and sharing location-based notifications in the form of URLs (very secure).
Eddystone and Google nearby are both by-products of Google. Google nearby scans for nearby beacons like Eddystone to check if they have any attached notification on them. If they get some, they pop/display them on users' mobile devices.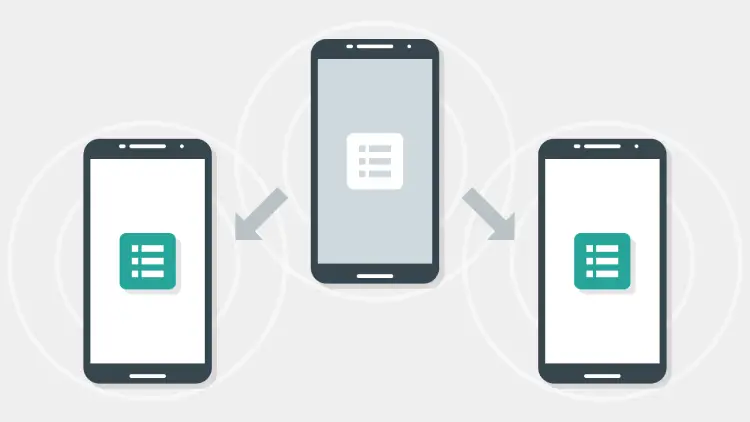 What is Samsung CloseBy?
Samsung CloseBy is a new service that brings the Physical Web to Samsung phones on their default browser- Samsung Internet. It allows Samsung mobile device users to detect and interact with beacons like Eddystone or iBeacons without the condition of downloading a specific app for the function.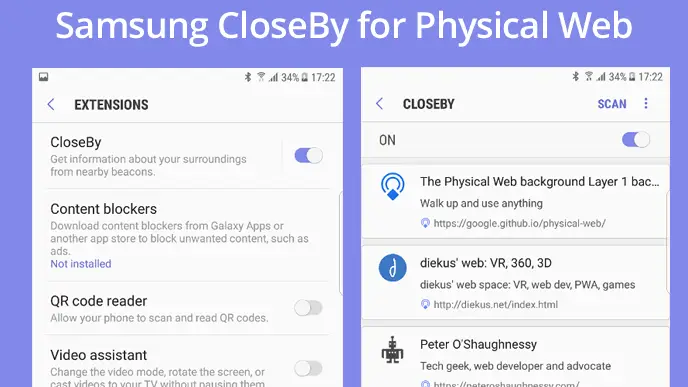 Google Proximity Beacon API
This is the Application Programming Interface that allows simple and effective management of beacon deployment no matter the type of technology they're using. Whether you have Apple's iBeacon, Google's Eddystone, or AltBeacon from Radius Network, the Proximity Beacon API connects all beacons to a single data store. This interface is also a part of the Bluetooth Low Energy beacon platform.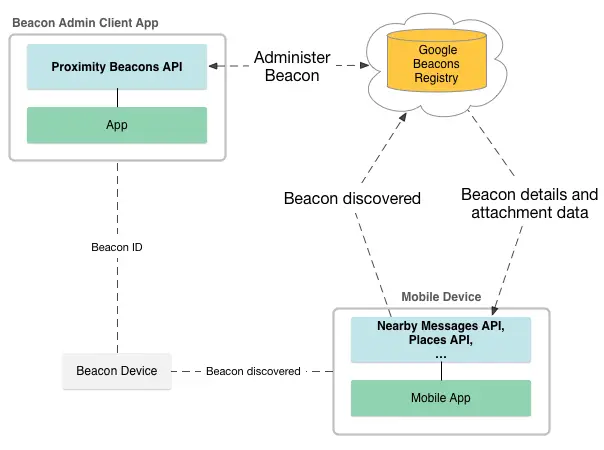 Why Did the Google Beacon Platform Fail?
Since Google built Eddystone specifically for advertisements, shoppers and shop visitors were overwhelmed by the number of ads, promotions, and notifications sent to them by the beacon on their mobile devices. They hated the experience. This made them uninstall the apps leading to Google's beacon failure.
Beacon security  
Your organization's security should be at the top of your mind before you buy beacons. While Eddystone Bluetooth beacon is open-source, Google does send out security updates often. These are meant to patch vulnerabilities that could lead to security issues. That's why accepting and applying security updates early is essential.
You also ought to pay attention to who you purchase your beacons from before any Eddystone beacon buy. Manufacturers and developers with a historically secure platform will almost always assure the security of your business. This means that they take security seriously and could help you avoid the repercussions that come with security breaches.
How Eddystone-URL is revolutionizing beacons

For iBeacons and Altbeacons, every user has to have a specific app installed on their devices. Ensuring the target audience downloads the app requires a lot of effort on the business side, from convincing customers to download the app to build the app itself. Eddystone-URL looks to remove this barrier by allowing people to interact with Google Beacons without the business having to develop an entirely new app.
It uses a beacon broadcast format that forwards a URL to the user's phone. As long as they have either the Google Chrome Widget or the Physical Web App, their phones will manage to pick up beacon signals and translate them into promotions or actionable insights. While this means that the user will still essentially be using an app, the business will not need to redesign theirs or develop an entirely new app. Besides, both of these two apps are already in use by most customers; it just adds an extra layer of use to them.
As long as a business can train customers on how to use the Google Chrome Widget or install the Physical Web App, they can enjoy the perks of Eddystone-URL. This allows them to further improve their marketing and engagement efforts when trying to attract customers.
Types of beacon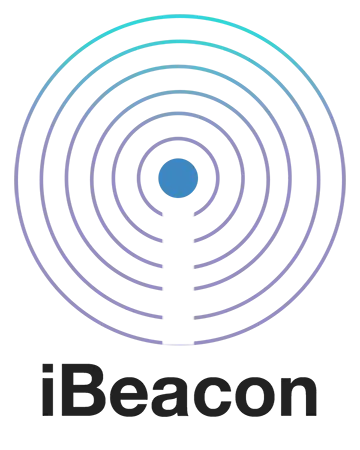 This was the first type of beacon ever produced – it was produced by apple. Not only is it easy to use, but also widely supported.
Eddystone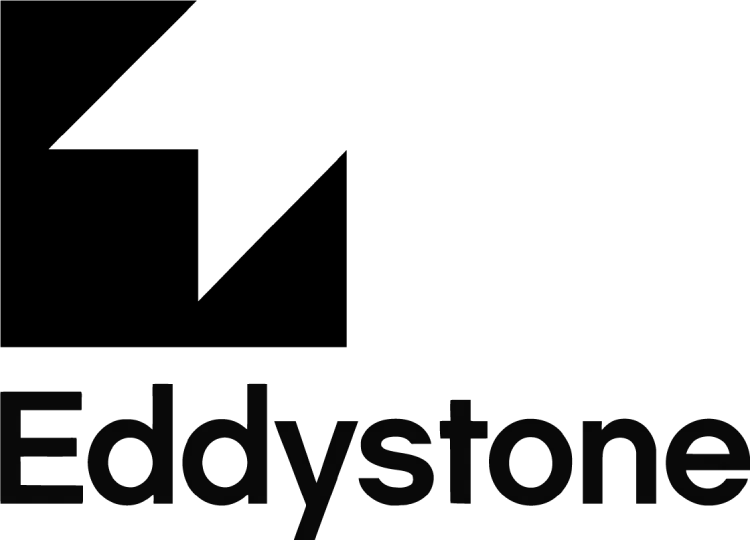 This is Google's version of iBeacon. It was previously called Uribeacon. It is flexible and can work pretty well with Google products. They even have Eddystone iOS.
Altbeacon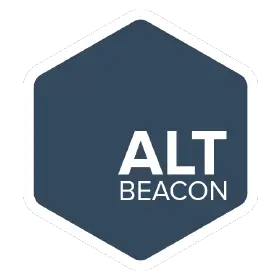 Created by Radius Network, this beacon doesn't favor any vendor over the other. It is based on open-source code, making it ideal for anyone looking to customize their beacon solutions.
Geobeacon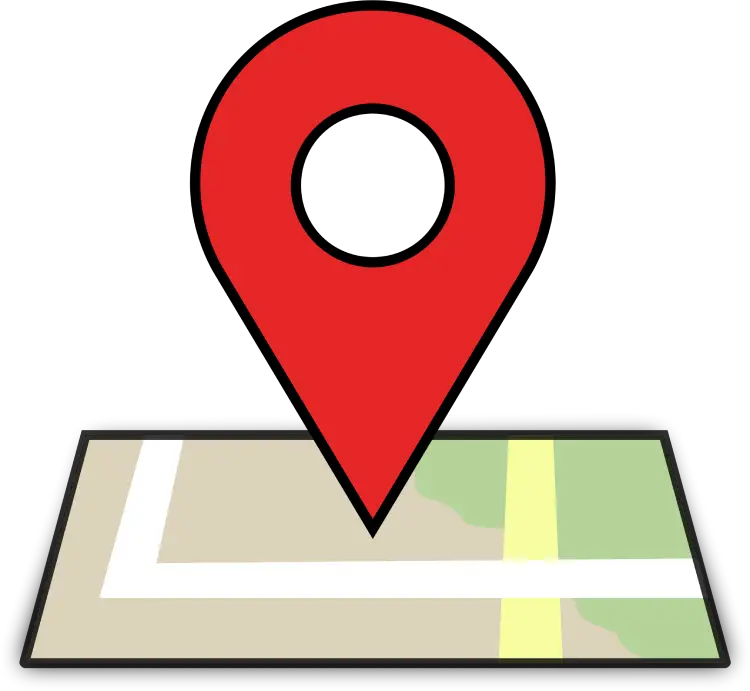 Having been created by Tecno-world, this open-source beacon protocol features eight types of user data, which is why it's flexible with a diversity of mobile platforms.
Comparing Eddystone to other beacon technologies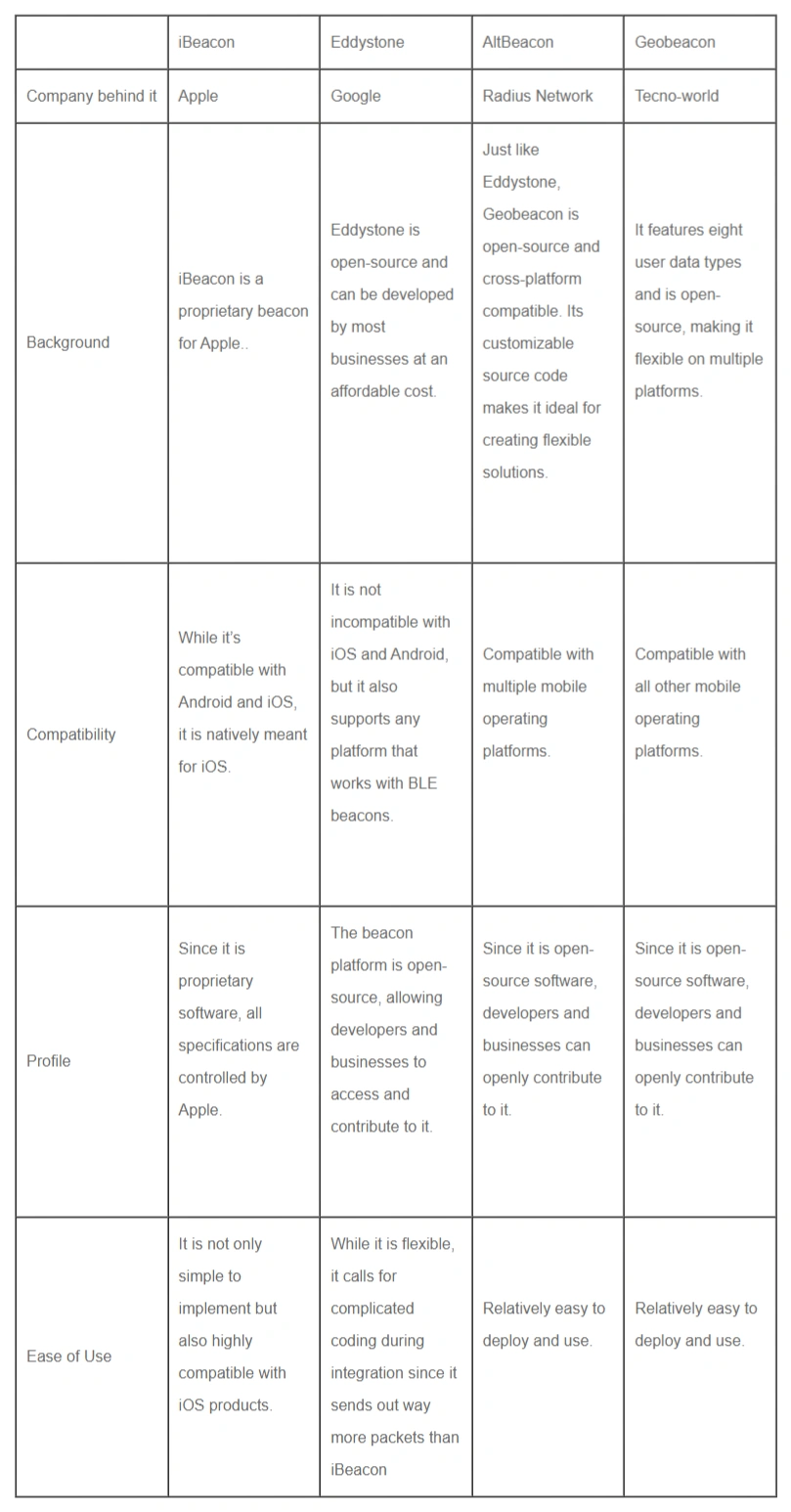 The big picture: Google's IoT lineup, Eddystone in the IoT ecosystem
Before the Google Eddystone Beacon stepped into the space, Apple's iBeacons was reigning supreme in the market. It only had a few issues; the proprietary iBeacon frame can only function from an iOS device or through beacons that support the company's framework. As a beacon named after a historical lighthouse in England, the Eddystone protocol is largely different from the rest.
It is a cross-platform, open-source Bluetooth Low Energy format that supports a wide variety of platforms, including iOS and Android. Eddystone GitHub exists through the open-source Apache v2.0. Since it supports a wide variety of data payloads (frame types), it is flexible on the side of the receiver and sender alike. It also broadcasts three signals, including URL, UUID, and TLM.
Even better, Google seems to be planning on using Eddystone in its IoT ecosystem. Google's IoT protocol, Weave, communicates through Wi-Fi or BLE, aiding in designing smart home technology. Its IP-based wireless communication protocol is called Thread, which is a huge competitor for Z-wave and ZigBee. The company also launched Brillo, which is meant to be the operating system for IoT devices that are based on Android.
Open-source Eddystone
In the Eddystone beacon vs. iBeacon debate, Eddystone's open-source nature deserves a paragraph of its own. Google makes its beacon platform flexible enough for developers to create solutions that work for them through GitHub. It's cross-platform compatible, making it discoverable by using any Bluetooth Smart device. It can communicate privately and runs under two of Google's APIs; Nearby API and Proximity Beacon API.
The application and use cases of the Eddystone beacon
Here are a few use scenarios for Eddystone beacons:
Industrial application: Monitoring the status of the factory floor. Industrial environments need to be maintained at specific conditions, from humidity to temperature. Since Eddystone-TLM beacons use sensors to determine specific environmental factors and even movement, they can be key at ensuring the right environment in industrial setups.
Advertising: Convenient customer engagement. Since the target audience doesn't have to install specific apps, engaging with them through beacons will be easier. Businesses can use less effort to market their services and promotions. For instance, real estate agents looking for buyers could use the beacons to broadcast the key selling points of the houses that potential home buyers are passing nearby.
In hospitals: Improving patients' experience in hospitals. Waiting for hours in the queue can be frustrating for customers. Beacons can be used to slash this time by broadcasting necessary documents that patients can fill through their phones. This information can also come in handy at knowing how to prioritize patients. Beacons could also be placed near a patient's bed to alert physicians about their medical histories, such as allergies and medications.
App download: Gateway to app downloads. Business apps tend to have a lot of benefits, from gaining access to lead generation data to help offer specialized services to customers. However, getting people to download your app can be tough. With the Eddystone beacon, once customers interact with your signal, you can send out notifications that urge them to download your app to enjoy the promotion.
Google Eddystone beacon format advantages and disadvantages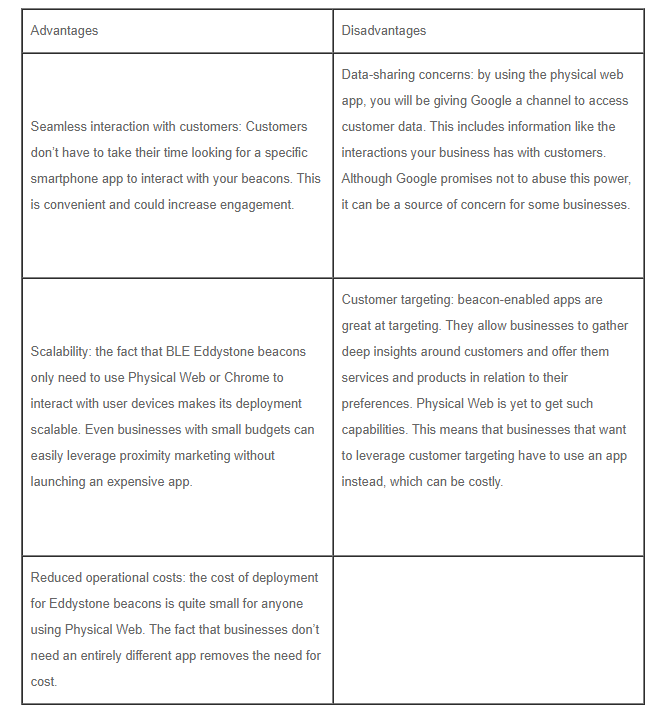 The future of Eddystone beacon technology
The benefits that beacon technology presents can't be gainsaid. The technology is great at improving brand engagement and at location-based tracking. Businesses can use it to alert customers of their services or promotions and directing them around retail stores.
As for location tracking, it enables manufacturers, and other industries, to track key assets. For instance, a hospital can identify patient and doctor locations during emergencies with ease. The one great thing about Eddystone is that you don't need an app to use the platform, alleviating deployment worries. The IoT world is the one industry that will benefit most from this, with more manufacturers launching their solutions without needing apps.
How the Google Beacon project affects SEO
Google's Project Beacon is designed to provide proximity-based communications that are hyper-local. The main idea is to ensure individuals and organizations can easily transmit and receive data being broadcasted by devices. It is meant to bridge the physical world with the virtual world.
When used right, it could revolutionize businesses, especially when it comes to local SEO:
Lead management: if a business receives a lot of foot traffic, which doesn't match with their online traffic, it can use beacons to close this gap. Something as simple as broadcasting a link to their newsletter will rapidly broaden their mailing list. This helps the business get more people to listen to their targeted email campaigns, which could easily result in online engagement.
Reputation management: Google cares a lot about reputation when ranking websites. That's why online reviews are essential. A business with multiple 5-star reviews will rank higher than that with three stars – if all other factors are held constant. Businesses can use beacons to urge customers to leave reviews so as to boost their rank.
Engagement signals: The more people interact with your website, the higher you can rank on SERPs. Beacons allow you to send traffic to your website which often results in high engagement levels and better rankings.
Difference between BLE beacon and iBeacon
The main difference between how BLE beacons and iBeacon broadcast data is in their specification. The first thing to note is that both use BLE technology, only that Apple-branded its beacon as iBeacon. iBeacon is integrated with iOS7. This allows the user to use an iPad or iOS7 iPhone as either a receiver or transmitter.
This can also work with later iterations of the operating system. Most of the other BLE technologies can easily connect with other platforms. While iBeacons can still connect with Android, they are natively meant for iOS devices. This means that you won't fully optimize it on other mobile platforms.
What the current BLE beacon deployment looks like  
The Eddystone beacon has shifted the norm in the beacon space. Before it, the data packets beacons sent could only be consumed through either an app or a gateway – the Eddystone packet format is different. Here is what this setup looks like:
Data collection through a gateway
In this case, Bluetooth gateways are used to listen and collect data from beacon signals. They then send them to a 'core' within the cloud. Most gateways run under LTE-M, Wi-Fi, Ethernet, or NB-IoT. Once the data gets to the cloud, a serverless app parses and spins it into appropriate fields in the database. This can include a wide variety of data, from location-tracking data to humidity and temperature.
Data collection through an app
In this case, the beacon's signals are interpreted through an app. The device's Bluetooth captures the signals, which are turned into insightful information for the user to see. The good thing with data collection through apps is that they can still function while the device is offline. Their only downside is the kind of convincing it takes to urge the target audience to download the app, along with training them respectively. Eddystone's app-less platform makes its deployment easier than earlier iterations of beacon technology.
How to deploy your Eddystone Beacon
Once you choose your beacons, the first step is to configure them. You should use the beacon software provided by the manufacturer or the Eddystone beacon app to configure. Eddystone beacon configuration includes things like power levels and broadcast intervals. You can use Eddystone- EID or go with Eddystone-UID for the advertisement of data or attachments. This is where you also control beacon access. Eddystone-URL frame types can come in handy when looking to advertise URLs. Here is what configuration helps you do:
Update the beacon data and attachments remotely
Communicate with the physical web
Use Google Beacon Dashboard to observe your beacons
Secondary URL data and attachment with a single beacon
Register with Google
The registration process differs depending on the frame types you are using. For Eddystone-URL, update the Ural in order to enable app intent or app installing URLs before registering it with Google. Other formats will require to be registered directly with Google Beacon Registry through the Beacon Tool App. Follow these few steps:
Launch the Beacon Tool App and tap on the Google Developer project option
Place your device near the beacon – it has to have the Eddystone beacon app installed
On the list of beacons that appear, click the beacon you want to register and proceed with the registration
You can also use Proximity Beacon API for registration
Adding data or an attachment
While there are diverse options for doing this, like Proximity Beacon API and Google Beacon Dashboard, the latter is the most preferred. Using it is quite simple and straightforward. You'll need to:
Open the Google Beacon Dashboard
Pick a specific beacon from your list
Add your preferred attachment
Add the attachment type and value
Your beacon will be ready to go. You can now update it or use it for whatever purpose you wish.
FAQ: How Eddystone beacons work
Do you need to install an application on your device to use Eddystone URL?
The Eddystone app is necessary for detecting the URL the beacons transmit. However, if a user doesn't have the app, they can always use the Physical Web Browser or Chrome iOS. This will require them to turn on their notifications in order to receive data from beacons.
Do iBeacons work on apps with Eddystone SDK installed?
Yes, you iBeacons can still work here. A good number of applications will support the two modes, meaning that you can set either of them.
Can you use any browser to translate Eddystone-URL?
Yes, other browsers, besides Chrome, can understand and translate Eddystone-URLs.
Can you control the kind of devices that receive the URLs?
You don't have any control over who receives the URLs. As long as a device has an app that supports and translates Eddystone-URL, they will receive the notifications.
Scanning Eddystone in an Android application  
The first thing to note before reading this Eddystone beacon tutorial is that you can only scan Eddystone starting from Android API 21 – anything lower than that won't permit scans. It requires you to use filters, which can be done through a wide variety of methods. It is possible to scan Eddystone beacons in the background, too.
Start by creating your own callback, where you will parse the data received and extract the vital information, including namespace ID, RSSI, and power. You will only need to parse the IUD while ignoring all other packets. This frame typically broadcasts opaque and unique 16-byte Beacon ID that comprises a 6-byte instance and a 10-byte namespace.
Once you complete the callback, you can begin the scan. Another thing to note is that the device power you get will typically be received at 0 meters, which is measured as dBm. This value can vary from +20 dBm to -100 dBm with a resolution of 1 dBm. You can use the power figure to determine the distance between the Eddystone and the device.
This scan is pretty similar to the iBeacon scan – it is easy to start off and implement. You can always leverage UID packet parsing as a great example to add every other packets support. If you want to extract bytes correctly, it is recommended that you visit GitHub to read Google's documentation. For extra information concerning this specific beacon, make a visit to Google's GitHub repository.
Parting Shot
While iBeacons are great at what they do, Eddystone beacons are the future of beacon technology. The fact that they can function app-less makes them ideal for businesses looking to cut costs. They are not only secure but also easy to deploy. In fact, this technology has become integral to the deployment of IoT devices in various fields.