Over the past decade, the explosion of technology has provided the world with a host of new tools and resources that, in turn, have brought countless benefits to various industries around the world. The Internet of Things (IoT) is a prime example of this, offering great scope for improving business operations, especially those involving fleet management. The ability to connect fleet vehicles not only provides the opportunity to achieve unprecedented levels of efficiency but also creates new opportunities for business growth. In this article, we'll take a deeper look at how beacon technology boosts the visibility of fleet management tracking.
Overview of fleet management and fleet tracking
According to the American Trucking Association, more than 70 percent of cargo is transported by trucks, and this proportion is even higher is some parts of the world. In china, trucks carry more than 75 percent of the domestic total freight, and it accounts for three-quarters of all cargo in European countries. While trucks carrying so much valuable cargo, businesses need to manage their fleet as efficiently as possible to keep low costs and high productivity. Today, many businesses are achieving this through connected fleet management by implementing IoT technology.
Fleet management is a broad term that refers to the overall action of optimizing the entire lifecycle of a fleet, from leasing to maintenance, vehicle tracking, courier management, and more. Fleet tracking, also known as vehicle tracking, is an essential part of a connected fleet management system that uses GPS tracking and other technologies to monitor fleet and asset activity.
Typically, a smart fleet management tracking solution can help fleet managers collect large amounts of vehicle-related data through fleet management technologies, giving them real-time visibility into the operations and status of their fleets. This includes vehicle maintenance, fuel consumption, fuel costs, GPS location, engine diagnostics, asset utilization, route planning, driver behavior, temperature of refrigerated trailers, and so on. This type of solution is increasingly being applied in the road transport sector, enabling you to reduce costs across the board and lower the chances of accidents and breakdowns, among other things.
The need for beacon technology in connected fleet management Tracking
In general, a fleet is a collection of land assets such as trucks, drivers, workers, and various powered or unpowered equipment (such as trailers). So, what is a connected fleet? As the name suggests, connected fleets bring together a range of technologies, all designed to make the fleet processes safer and more efficient, thereby improving the overall truck experience. Connected fleets are likely to be the future of logistics.
It is widely believed that remote connectivity is essential to manage modern car fleets, and it is associated with GPS tracking and fleet monitoring. More and more companies have deployed GPS tracking solutions in long-distance fleet tracking. GPS plays a huge role in truck positioning and route optimization, which helps plan for better-estimated arrival times for cargo from towns and across the country, while also helping drivers choose more efficient routes and avoid traffic and other problems.
However, GPS tracking seems to be complicated and difficult to deploy, and it is rather imprecise when the truck approaches or enters the covered loading bay where the satellite signal is degraded by walls and roofs. This is where the Bluetooth asset tracking solution comes into play, and it can be integrated with GPS. Bluetooth beacons will take over the task of location tracking and trailer monitoring in closed spaces or indoor conditions. Moreover, they can also be used to keep track of individual pieces of cargo. Due to its high accuracy, it is perfect to track heavy equipment used at the event site.
How to use beacon technology in car fleet management Tracking
A smart fleet management tracking solution consists of a set of technical components, including both hardware and software. The hardware section includes a GPS telematics box embedded in the cabin of the vehicle, as well as a set of sensors and Bluetooth beacons that can be installed at different locations within the vehicle. In order to manage the various connected devices in the network and read data, fleet management software is required.
Now, it's about how to integrate Bluetooth beacons with other vehicle tracking technologies. Bluetooth beacons and sensors mounted on the vehicle will broadcast the signal in Bluetooth, and GPS trackers with dual Bluetooth and 3G/4G connectivity will detect BLE signals within the beacon range. The GPS tracking device, generally connected to a vehicle's ODB port (On-Board Diagnostics), will then send the information it has collected to the cloud via a network of cellular antennas. End users will then be able to view and analyze the data captured by BLE beacons and sensors through an IoT platform connected to the network via the cloud. If exceeded the threshold, an alert can also be sent directly to the driver's smartphone.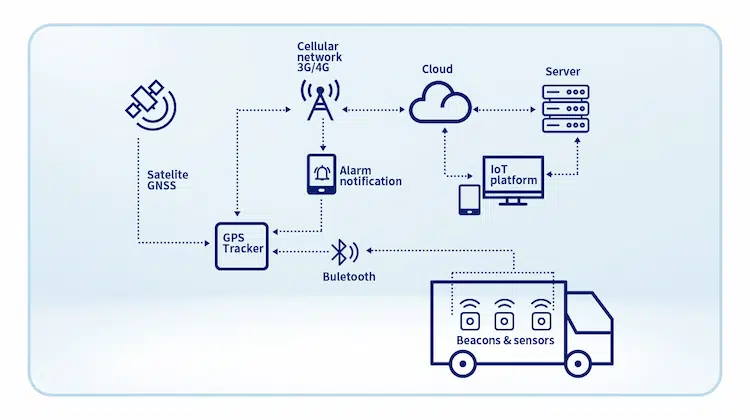 For ease of understanding, let's take cold chain transportation as an example. The transport of heat-sensitive products such as vaccines often requires low-temperature storage conditions. Bluetooth temperature&humidity sensor beacons fixed in the refrigerated trailers will be configured to measure temperature periodically and issue an alert when authorized temperature thresholds are exceeded. Once exceeded the prescribed range, the driver will receive a real-time alert on his smartphone, enabling a quick response.
What are the benefits of Bluetooth-connected telematics solution
The goal of a connected fleet management tracking solution is to monitor the performance and maintenance of vehicles and in-transit assets, ensuring that everything is running efficiently and smoothly. A Bluetooth-connected telematics solution has a huge potential for companies to reduce risks involved with vehicle use, boost productivity and efficiency, and lower overall costs. Let's find out the many benefits of a connected fleet management tracking solution.
Checking and counting drivers, vehicles, and cargo
At the beginning and the end of the whole journey, it's essential to check the inventory of the goods, the number of vehicles, and even drivers. By attaching BLE beacons to drivers, vehicles, and cargo, data about the fleet can be easily collected, which is then transmitted to fleet managers and business owners so that they can make strategic decisions and operations.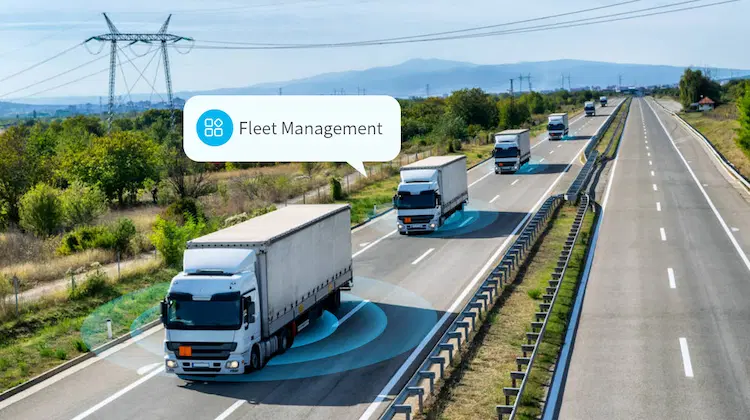 Monitoring the in-transit condition of cargo (cold chain)
During transportation, Bluetooth beacons and sensors can be attached to cargo rather than the vehicle itself. This is something that some businesses are doing, and it makes the transportation of cargo more visible. Tracking vehicles can certainly provide insight into delivery times and asset movements, but tracking actual goods can broaden that insight and further ensure delivery as planned.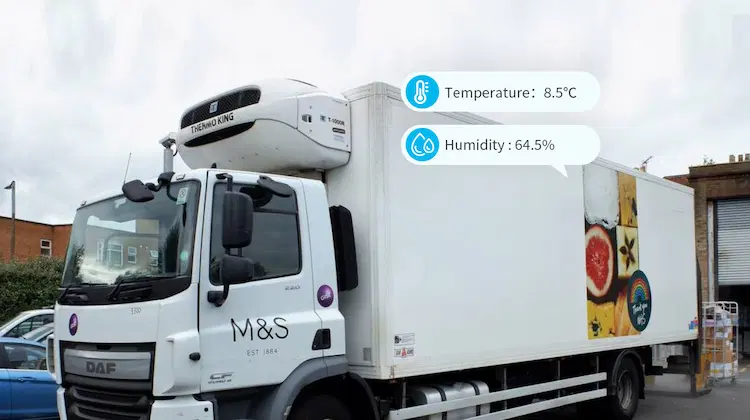 Monitoring vehicles' performance and maintenance
No matter how large or small a delivery business is, fleet maintenance is a critical component of a successful business. Simply put, a malfunctioning or poorly performing vehicle can slow down delivery, result in unnecessary costs, and even reduce the safety of drivers. And now, IoT sensors and BLE beacons are enabled to avoid these problems by monitoring engine performance, timing oil changes, tracking brake and tire quality, and more.
Reducing costs and saving fuel
In a way, this is actually closely related to route optimization. In general, the most efficient route is also the one that helps save fuel. However, sensors related to vehicle activity also help provide managers with more comprehensive information on driver habits and vehicle idling times. This information has the potential to be used in the form of guidance, changing habits, and reducing fuel waste.
Monitoring the behaviors of drivers
Driver performance is another key area that can benefit from smart beacons and sensors in modern fleet vehicles. Fleet drivers are known to often be overworked, and unfortunately, this can lead to major safety issues. Responsible fleet managers are already working to take steps to avoid these problems and ensure driver safety. BLE beacons and sensors can be used to monitor driver behavior by detecting sudden stops and starts, fatigue or irregular driving, making it easier to identify problems and making necessary changes.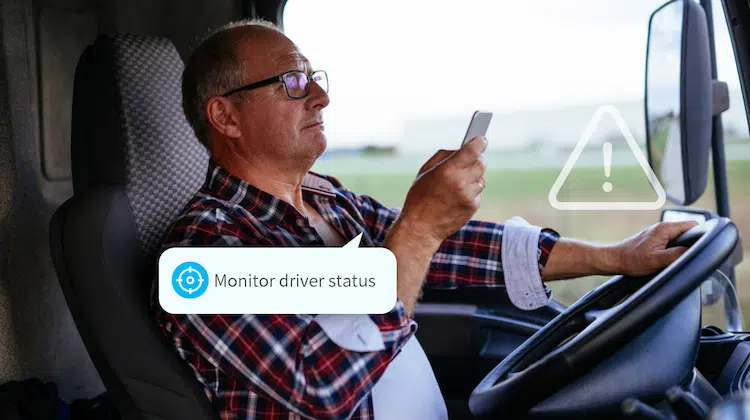 IoT: the driving force behind the future of logistics
Gone are the days when people relied on horse-drawn carriages for transportation, and they were a thing of the past with the advent of airplanes, trains, and automobiles. Nowadays, there are programs that help managers easily track vehicles, communicate with drivers about route changes, and collect data on driving times and transportation efficiency. IoT-enabled fleet management systems use platform hubs to create a broadly connected environment between trucks and fleet managers. It uses a variety of sensors that can track a variety of variables that can affect the timely delivery of goods.
IoT fleet management solutions are essential for industries engaged in trucking. With the continual emergence of new technological innovations, we will continue to revolutionize the way goods are transported. Today, we are using IoT and sensor data to modernize our fleet; Tomorrow, we will combine IoT with machine learning to automate process improvements. Let's wait and see!
MOKOBlue beacons in fleet management tracking solutions
As you can see, with connected vehicle management tracking solutions, businesses operating in this market will reap many benefits, including increased productivity, enhanced efficiency, and significantly improved customer service. As technology continues to advance, remote connectivity will become increasingly important in fleet management. If you are wondering about deploying BLE beacons and sensors in a connected telematics solution, MOKOBlue is the best option you can't miss. Please do not hesitate to discuss this with our Bluetooth IoT experts!