The development of smart airports has been spurred by the widespread use of smartphones and connected devices by passengers. According to SITA's Future Connected report,83% of passengers carry smartphones, which are used by airports and airlines to communicate with passengers. Innovative technologies such as NFC, QR code, and Bluetooth iBeacon technology have made great achievements in promoting intelligent airports. Therefore, more than a third of the world's airlines are investing heavily in IoT solutions, and iBeacon in airports is their focus on investment in the next three years.
iBeacon is proximity-based technology that receives a passenger's smartphone signal and sends a specific message back. It's helpful in enhancing navigation, flight information, baggage claim, measuring the distance to the gate, and passing on duty-free benefits. In addition, iBeacon in airports is an additional channel to increase revenue from non-airline-related streams.
What is iBeacon in airport?
A iBeacon in airport is a small wireless device that sends low-power Bluetooth signals to nearby mobile devices. Inside the airport, it connects to a mobile app on a smartphone and triggers actions, such as sending coupons for nearby stores and displaying contextual information on the phone. iBeacon in the airport uses a protocol introduced by Ericsson in 1994. In 1998, several companies, including Intel, Nokia, IBM, and Toshiba, joined Ericsson telecom to form the Bluetooth SIG. Beacons use a simple version of standard Bluetooth Low Power (BLE) devices, which became part of Bluetooth 4.0 in 2010, so the technology has been around for a few years, but it was Apple's iBeacon device that really sparked interest in beacons in the airline industry. iBeacon technology is an Apple-specific beacon advertising payload format. Through the iBeacon profile, the beacon can find the presence of iOS devices and trigger snippets of information in the application on gadgets
Why do airports need beacons?
Airports are facing a series of challenges. The number of passengers is increasing. Check-in, boarding, security check, baggage handling and other work need a lot of manpower to manage. Therefore, it is necessary to anticipate traffic demand, improve operational processes, increase staff productivity, ensure safety, enhance customer experience and so on. Airports need to streamline processes and increase interaction, and iBeacon in airports is the key to solving these problems. It makes travel easier by connecting with travelers and provides personalized distance information in a better way.
How can beacon technology be used in airport
Real-time information update
iBeacon in airport connects with apps on smartphones to give passengers personalized airport information, including flight delays, gate changes, or updates on baggage collection. Airports are so busy that sometimes it's hard to get to the information board to check flight information, or when passengers are busy with other things, it's not easy to notice if there's any change at the gate. With iBeacon in airport, passengers' apps can receive real-time push notifications. In addition, with the help of beacons, passengers can quickly find other relevant real-time information so that time and energy can be saved.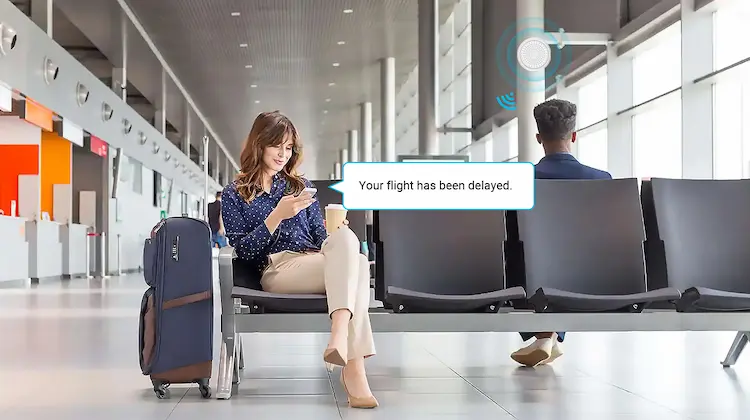 Indoor Navigation
I believe that people who have been to airports have one thing in common, that is, airports are so big that they can't find their way around. It can be really frustrating, especially when you can't find the check-in desk when your flight is about to take off, or you can't find the nearest exit when you have to catch a bus to another terminal. By deploying iBeacon in airport, precise indoor navigation is possible. Passengers can quickly find their route and search for services offered by airport providers, such as lounges, shops, ATMs, or toilets.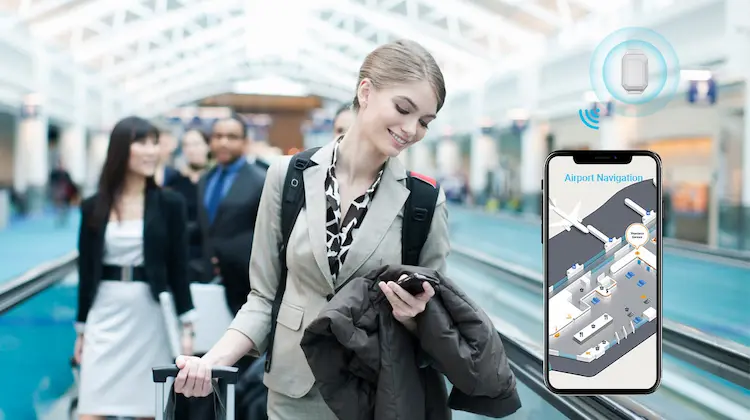 Provide accurate results by collecting heat maps
Heat maps collected by ibeacons devices allow airlines to track how long passengers spend at specific locations in the airport and generate customer demand information. If there's a long line before boarding, beacons can ping airport authorities to allocate extra resources at busy locations so passengers don't have to wait too long. In addition, the data generated by the Beacon helps build predictive models to better plan layouts that match passenger interests to provide a better experience.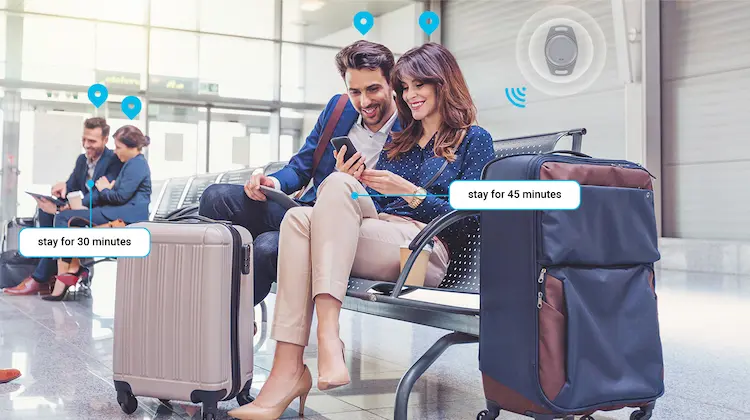 Send personalized promotions
By using personalized deals (e.g., restaurant discounts, Wi-Fi passes, upgrades, etc.), iBeacon in airport can trigger contextual information based on a traveler's airline profile to attract nearby passengers. In this way, customer engagement and sales are increased and brand loyalty is built. Those deals you get on your phone when you're in the airport lounge are made possible by this technology.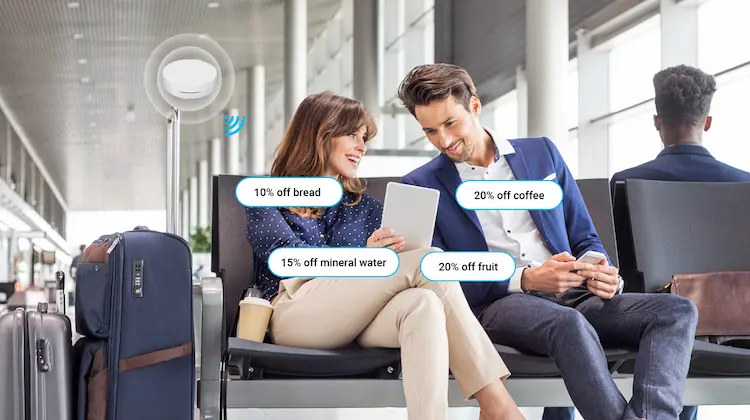 One-stop baggage management
With iBeacon in airport, passengers don't have to worry about finding their luggage anymore. Every suitcase can be tagged with a beacon so that passengers will receive real-time messages when their luggage is uploaded in the airplane and arrive at the destination, they don't need to stare at the billboard to search for the location. iBeacon solutions greatly reduce baggage loss and improve efficiency.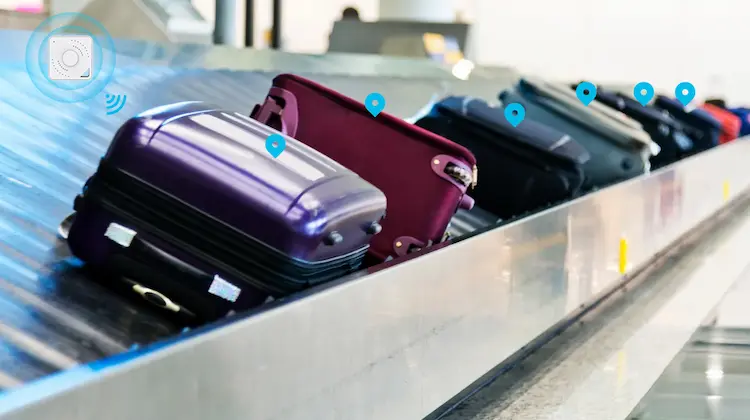 Ten use cases of iBeacon in airports
The benefits of Bluetooth iBeacon in airports are so great that some international airports around the world have adopted the technology. The following 10 airports have used iBeacon technology to improve passenger experience and operational efficiency.
Miami International Airport, USA
As the first airport to use Bluetooth beacon technology, Miami International Airport's customer reviews are better than ever. There are more than 500 Bluetooth beacons installed for sending real-time information, directions and tips to employees and passengers. Push notifications of special offers from MIA retailers in the airport will also be sent. Moreover, passengers are allowed to reserve parking spots and access updates on their mobile phones.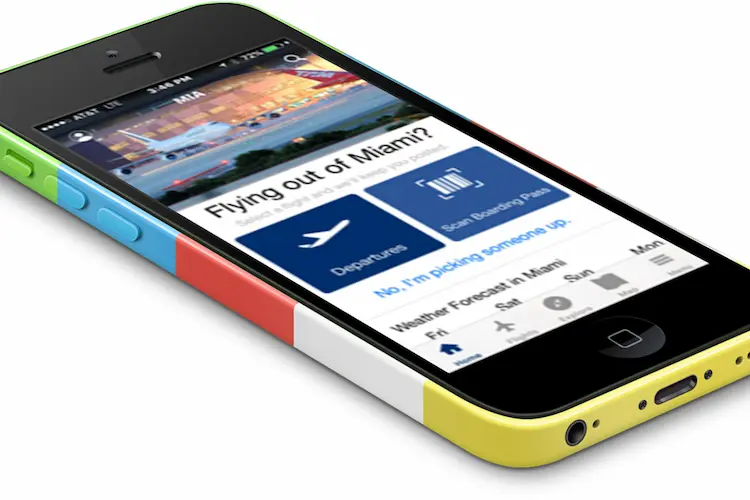 Heathrow Airport, London
IBeacon technology used by British Airways and Heathrow Airport allows passengers to receive personalized notifications and use BLE and geo-fencing via their mobile phones.
Hamad International Airport, Doha Qatar
Hamad International Airport deployed more than 700 iBeacon devices to update passengers with real-time information such as baggage claims, flight status, promotional retail offers, and real-time gate navigation.
GVK Chhatrapati Shivaji International Airport, Mumbai India
The Mumbai T2 official mobile app has launched many features with the iBeacon solution. The app makes it easy for passengers to navigate any area they want to go to. With the help of Bluetooth technology, the Airport Authority also uses Bluetooth beacons to launch many functions, such as GVK museum navigation technology, mobile shopping, paperless boarding pass check-in, tax-free pre-purchase, etc.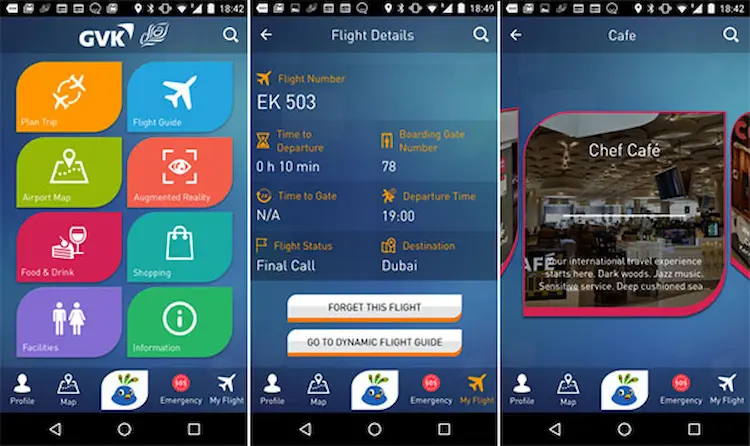 Tokyo Haneda Airport, Japan
Beacons installed by Japan Airlines at Tokyo's Haneda Airport trigger the location of nearby devices and other relevant information. To support this initiative, the airline has provided wearable beacons for employees to help identify the exact location of staff, in this way they can assign and communicate their real-time location at the airport.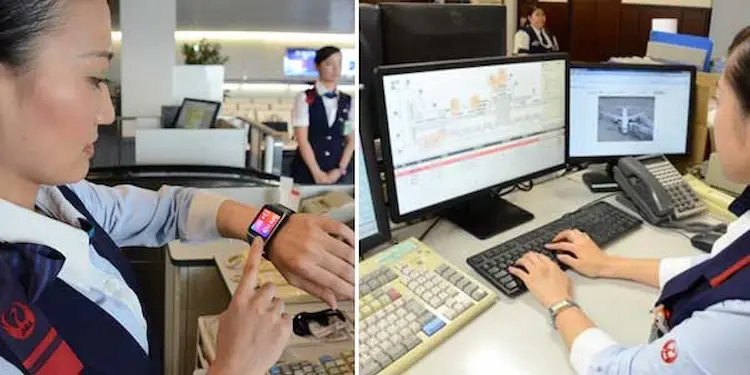 Bologna Airport, Italy
Bologna Airport has applied many innovative new technologies to improve the quality of its passenger services, such as iBeacon, NFC, and QR codes. The technologies will work together to send real-time alerts, notifications, and promotional messages to passengers.
John F Kennedy Airport, New York
John F. Kennedy Airport in New York offers ibeacon in airport and mobile apps for passengers at Terminal 4. iBeacon technology allows passengers to receive real-time information and navigation tips, which eliminates long lines and reduces the stress of travel. In addition, JFK terminal 4 has dedicated TVS at certain locations such as checkpoints, TSA security, indoor taxi lines, and Border security areas. As long as passengers pay attention to notifications on their mobile phones, they will not miss the boarding time while watching TV or in the middle of other things.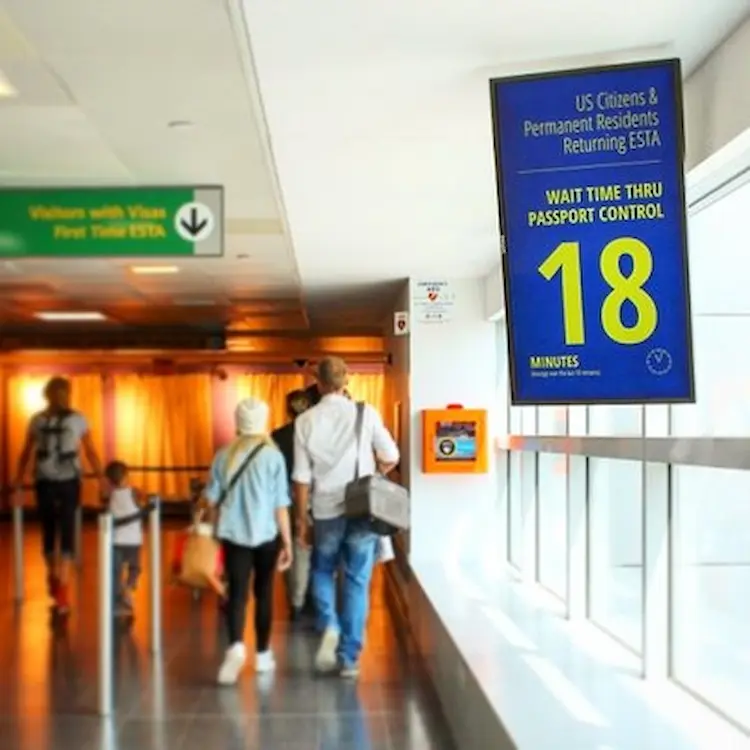 San Francisco Airport, California USA
Finding your way around the huge Airport or reading bulletin boards can be difficult for someone with poor eyesight. The San Francisco Airport Authority is aware of this, so they respond by installing 500 beacons in airport so that passengers can receive notifications as they move around the airport. In addition, passengers can easily search for information about retail stores, counters, boarding gates, and restaurants through the visually impaired navigation app.
Hong Kong International Airport, China
There are more than 50 iBeacon devices installed in terminal 1 of Hong Kong International Airport for providing passengers with real-time notifications, indoor maps, and passenger guides. With powerful navigation capabilities, beacon can send location information to travelers in different languages, including English, Korean, Chinese, and Japanese.
Nice Côte d'Azur Airport, Paris France
Nice Cote d 'Azur Airport has launched an advanced mobile application in the Terminal 1 retail area while installing beacons throughout the airport to provide retail information. Meanwhile, airport VIP club passengers who use the app will automatically receive points as they pass through the airport. Prime premiers will also be able to use beacons to gain access to express security checkpoints.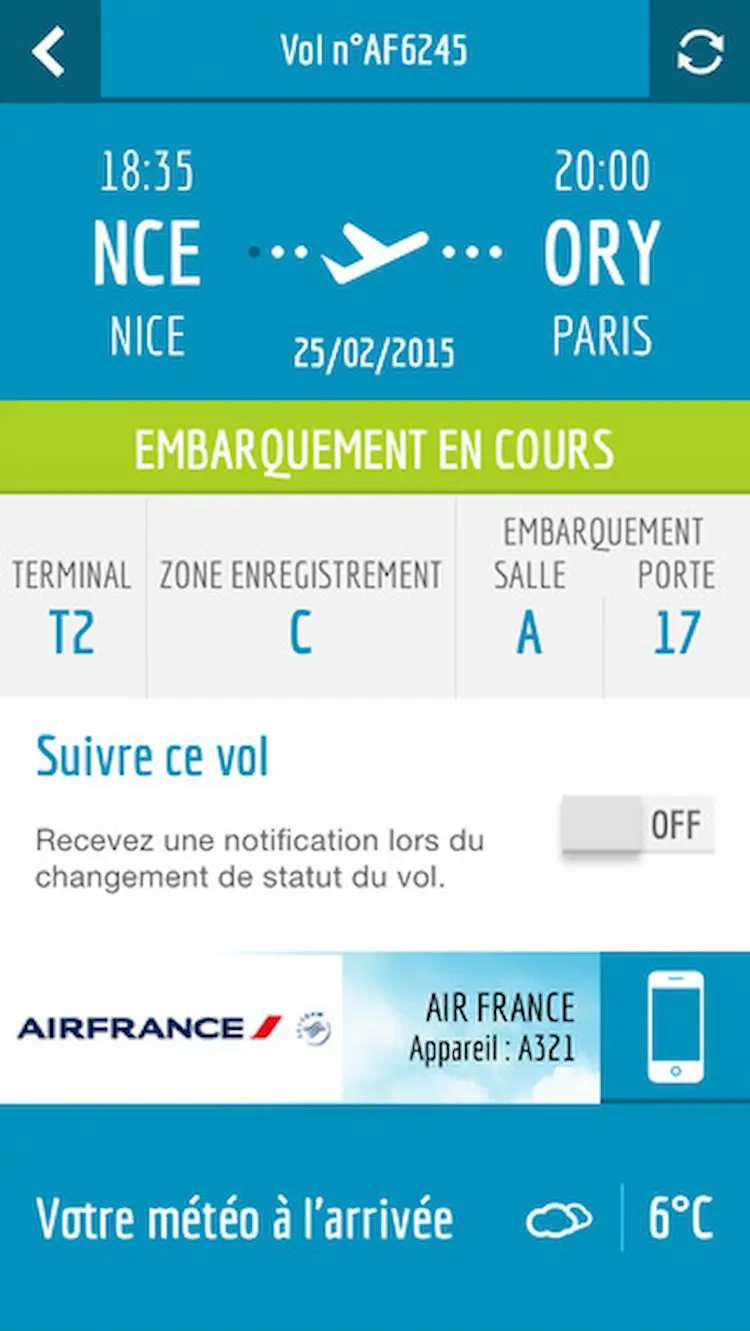 Conclusion – iBeacon in airport
Being able to interact directly with customers is an important competency for any airport or airline in the Internet of Things era. Analytical data generated by ibeacon in airport can not only improve the passenger experience, but the data generated can also help airports improve efficiency, organization, and, most importantly, profitability. If you have plans to develop beacon-based applications to enhance timely notification and detection of user locations, or if you have any ideas for your own location-based applications, don't hesitate to contact us. MOKOBlue will help you estimate the approximate cost of completing application creation and further requirements flow.