There are untold ways in which Bluetooth technology has been enhanced to improve workers safety. New technological innovations have made some hazardous conditions for employees in workplaces safer. With the safety of workers, a major concern in the mind of employers, Bluetooth technology offers more safety situations for employees.
Bluetooth is available in various electronic devices such as smartphones, laptops, smart televisions, loudspeakers, and many more. At MOKOBlue, we integrate Bluetooth into the electric devices we manufacture, making it possible for these gadgets to send data over short-length radio waves.
After its introduction in 1994, the Bluetooth Special Interest Group was formed and took the mandate to manage this technology. The group was formed by the world's leading device manufacturers who work together to develop the technology. Thus, they ensure that all users are always well-informed about the latest technology updates. From connecting smartphones to wireless headphones, Bluetooth has recently become very synonymous. However, the Bluetooth concept is also applied in workforces at a larger scale.
Why improving workers safety is needed
From morning till dawn, we are always followed by risks. Some jobs have increased chances of taking risks as part of work. A survey conducted in 2016 by the Bureau of Labor Statistics in the US reported that serious injuries in workplaces increased rapidly in the earlier three years. This rapid rise was associated with "trips, falls, and slips" as the most common dangers.
Whenever a worker falls, reaction time is the key solution to mitigating injuries in the workplace. Someone should notify and respond to a fall or emergency as soon as possible. This is where the data and the Bluetooth panic button apply. Collecting information regarding the movement and location of people and objects and establishing analytical models enables organizations to make healthier decisions for the safety of their workers. The Bluetooth real-time location system (RTLS) is a technological phase in the appropriate direction.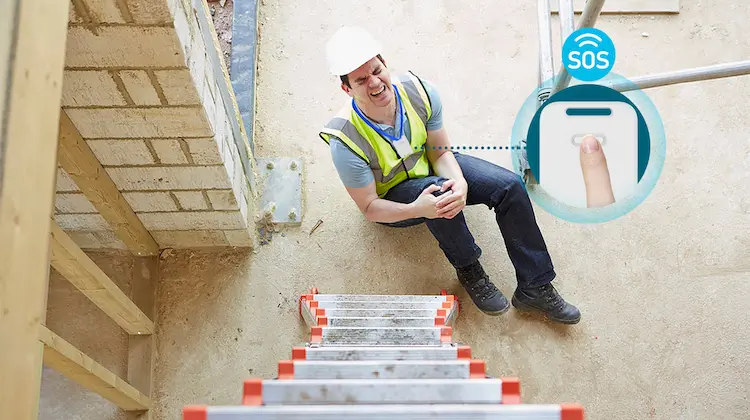 Improving workers safety with Bluetooth Technology
In partnership with some of the most prominent companies globally, Moko aims at bringing together different hardware and software to offer an end-to-end solution to its customers. One application of this is to enhance the safety of workers in a workplace. This is enabled by capturing the movement, location, and other information streams such as temperature, humidity, ambient light, and acceleration.
In this solution, hardware is the very first component. Bluetooth devices, a compatible mobile device, or a combination of both are applicable depending on the workplace environment. Both smartphones and Bluetooth tags are commonly used to have special characteristics suitable for multiple applications. The software enables the data collected by the hardware. This includes the beacon's location, telemetry data such as its acceleration rate, temperature, or if it can be used during emergencies.
All the collected data is presented via a devoted dashboard that enables users to examine the data, make alerts, adjust restrictions, and maintain the hardware. The Bluetooth technology is easy to use and deploy. It is the future of the safety of workers in workplaces.
The safety and security module – Bluetooth Technology
MOKOBlue end-to-end solutions are developed using the modular method. This implies that we categorize structures into building blocks according to their functionality and sequentially provide a solution that best fits the needs of our customers. A Bluetooth Panic Button or an individual alarming is facilitated by the Safety and Security module. The Panic Button is structured to maintain the safety of workers. It immediately notifies the employer or supervisor if help is needed using an individual button they carry with them.
An inbuilt dashboard or a mobile app is used to access past information, charts, and representations of emergency events. The organizations' capability to record and respond to employees' emergencies enables them to take critical actions to enhance the safety standards of their facilities and future processes. Businesses are anticipated to keep up with their progress when better safety and compliance standards are introduced. This can be achieved by employing technologies that offer more data transparency. These fundamentals are at the core of Moko Technology.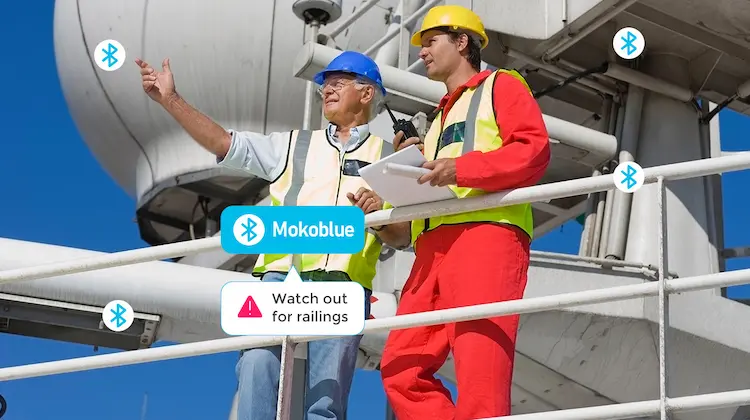 The asset tracking module – Bluetooth Technology
This module improved for location tracking using a Bluetooth tag or beacon. Our platform can offer real-time location on a person or object when equipped with a Bluetooth tag, beacon, or a smartphone using the MokoBeacon Android SDK.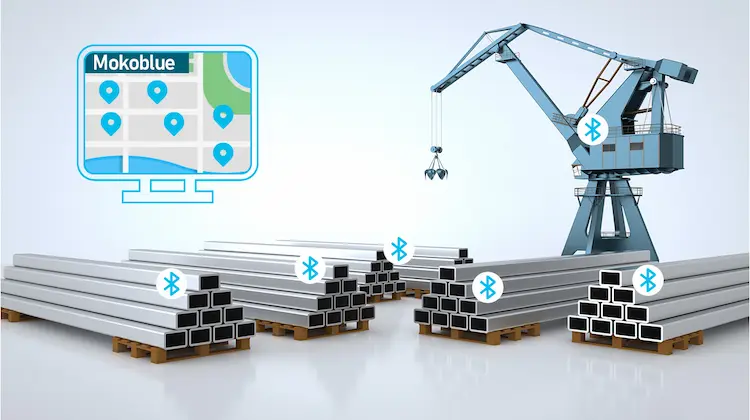 Why use Bluetooth beacon for workers safety
Wearables for remote employees in risky locations
Incorporated with wearable technology, it is possible to fix Bluetooth beacons and other IoT sensors on a wearable. The general solution can be personalized and developed to enable the wearable to work effectively during emergency cases where communication is hard—for instance, people working in risky areas such as tunnels, mines, etc. Besides, gas leakages, fires, or floods can be detected by IoT sensors and other manufacturing hardware. In case of any fire, floods, or gas leakage, the system creates an alert message and directs it to the control room operator. In places where online communication is a challenge, Beacon can take over the communication channel.
Beacons for protecting in-house workers
Beacons play a significant role in safeguarding the safety of workers in workplaces, especially in the logistics, construction, and transportation industries. Moreover, Beacons assists users in monitoring indoor environments via IoT sensors and their data. The data collected can be keenly examined to help evade future accidents and create periodic consciousness maintenance of indoor equipment.
Use cases of Bluetooth beacons for workers safety
As Bluetooth technology and Bluetooth beacons can make our individual lives more enjoyable and easier, we need to think of how this technology be used in our work lives? Most especially, how can gas sensors be paired with Bluetooth beacons to maintain the safety of workers working in risky areas? Below, we have discussed the top five industrial use cases of Bluetooth beacons in maintaining the safety of workers.
Beacons enable the user to determine the potion where an incident happened. It is always important for an employer to know where his employees were, mostly when there was a possibility for a safe occasion. The great thing about Bluetooth beacons is that they can communicate info regarding an employee's whereabouts. This is helpful in the pursuit of eliminating deaths in dangerous workplaces. Nevertheless, Beacons offers scalable and cheap solutions. As beacons are simple to use and install, they provide a wide range in position monitoring, from a few feet to a maximum of 100 feet, depending on the application. Depending on the number of the beacons deployed and their settings, they offer great location accuracy down to one meter. Beacons do not require an intricate triangulation algorithm or a GPS receiver and other expensive wireless infrastructure to function effectively. Moreover, the data collected by BLE beacons are accurate and send alerts to the user even when it has fallen out of place or shifted from its position. Thus, as long as the Bluetooth technology is in place, assistance will always be on the way.
Beacons inform employees whenever they enter a restricted area. Other than beacons assisting workers in knowing the specific area where alarms are fixed within a facility, they are also essential in certifying that unqualified workers do not gain access to the areas they should not be in the facility. As beacons can determine whether an operator with a monitor is within a specified distance, they direct an alert to the monitor when an operator without necessary authorization enters a restricted zone. This propinquity alarm feature ascertains that every person within a certain zone has the right skills and is sanctioned to be in that area. Also, Bluetooth beacons can be used to turn on and off certain instrument functions, control settings, or send a notification if another specific safety tool is needed for use in a particular area.
Giving alerts and warnings
Beacons assist employees in gathering accurate, continuous, and helpful insights for analysis. It is easy to mount Bluetooth beacons on a motionless location or movable machinery. In case of inconsistency, beacons can send alerts and warnings to the user. The general notion is to warn workers in case something is about to occur with such moving risks. The demand for transparency and connectivity in workplaces is growing each day. One of the leading ways this is realized is through Bluetooth technology and workers protection solutions from MOKOBlue.
When well-armed with the new-age Bluetooth devices, workers can trust that assistance anywhere on a property is certainly away with just a click of a button. This is significant, specially when it comes to the safeness of the employees and location matters. Besides, if an employer has no idea of the workers' location, is it possible for the employer to help when the workers need it?