In a world where danger lurks around every corner, being prepared for the worst is not just smart, it's essential. And let's face it – we've all imagined ourselves in a situation where we needed help ASAP. That's where Bluetooth panic buttons come into play! Sure, you could scream for help at the top of your lungs, but let's be honest, that's not going to do much good. With a wireless panic button solution, you'll have a peace of mind. In this post, we'll dive into the world of panic button Bluetooth. Sounds fancy, doesn't it? We'll explore their definition, benefits, types, and some real-life use cases. Trust us, you'll be a panic button pro in no time!
What is a Bluetooth panic button
Bluetooth panic buttons are smart devices that utilize Bluetooth wireless technology to provide quick access to emergency assistance. These wireless panic buttons are small, lightweight, and easy to carry and wear. They are often worn around the neck or attached to a helmet and can be quickly activated in an emergency when help is needed.
Using Bluetooth technology, these panic buttons connect to compatible devices such as smartphones or computers and can be programmed to send out an alarm when triggered. Bluetooth panic buttons are particularly useful for elderly people, lone workers, and those who live or work in high-risk areas. They provide an extra layer of security and peace of mind, knowing that assistance is only a button press away.
Different types of Bluetooth panic buttons
Panic buttons come in various types, each designed to suit different needs and situations. By understanding the various types of panic buttons available, you can choose one that best suits you. Here are some popular types of Bluetooth panic buttons available: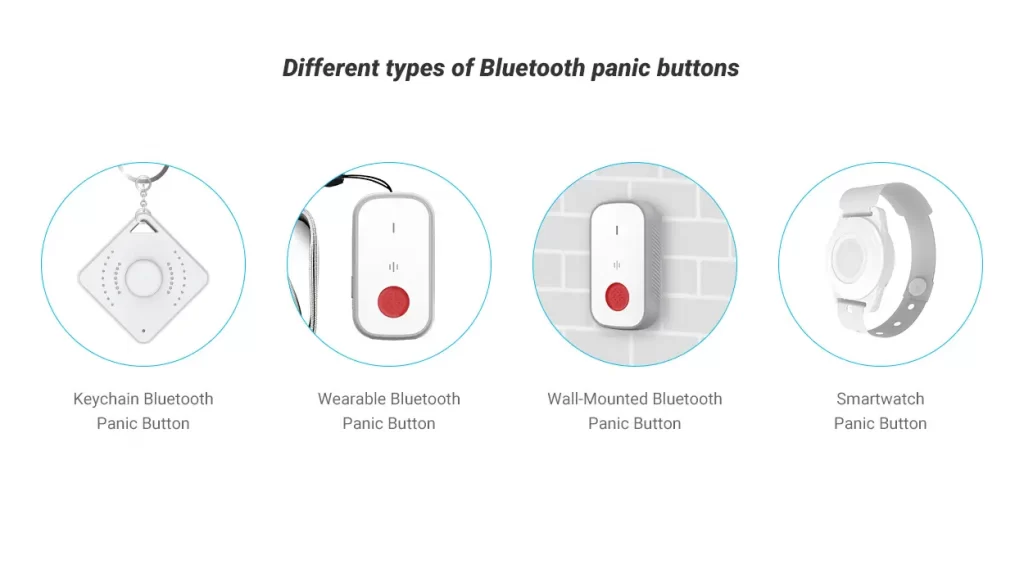 Keychain Bluetooth Panic Button: This type of panic button is designed to fit on a keychain and can be easily attached to a person's keys or bag. Perfect for people who want quick access to help, the keychain panic button is compact and can send alerts to designated contacts when pressed.
Wearable Bluetooth Panic Button: These buttons are designed for people who are always on the move. You can wear them as a work card, wristband, or attach them to your helmet. They are easy to use and enable the user to free their hands. Bluetooth wearable panic button is useful for people who work outdoors or in noisy environments where it may be difficult to hear a phone call.
Wall-Mounted Bluetooth Panic Button: These buttons are ideal for fixed locations such as public areas like schools, offices, hospitals, and shopping centers. They can be easily mounted on the walls and provide quick access to help in case of emergencies.
Smartwatch Panic Button: Some smartwatches come with integrated panic buttons that allow the wearer to seek help with a simple tap. Such devices are perfect for people who want to ensure their safety while enjoying outdoor activities.
Benefits of using Bluetooth panic buttons
Bluetooth panic buttons are becoming increasingly popular across various industries due to their numerous benefits. These vital safety tools provide a simple and effective solution to stay safe and secure at all times. Here are some of the reasons why BLE panic buttons are essential: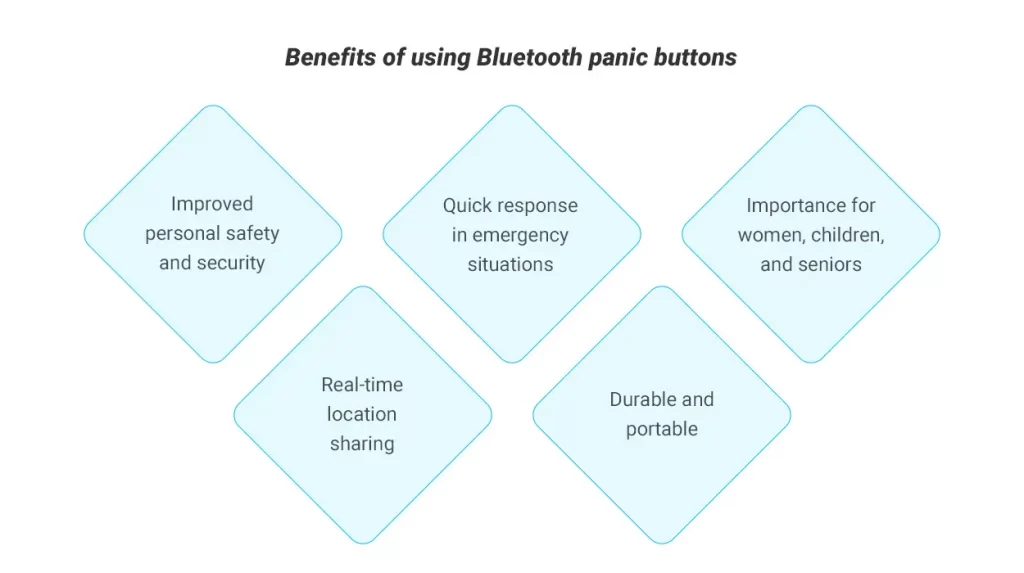 Improved personal safety and security
Bluetooth push buttons provide peace of mind by giving you a reliable tool to call for help in case of an emergency. While useful for anyone, they are essential for individuals who are housebound, elderly or vulnerable.
Quick response in emergency situations
Bluetooth alarm buttons offer quick response during emergency situations. Whether it's a medical emergency, security issue, or any other hazard, the panic button can be quickly triggered with a simple press of a button. This leads to a faster response time, potentially saving lives.
Importance for women, children, and seniors
Bluetooth panic buttons are particularly important for women, children, and seniors who may find themselves in vulnerable situations. They can quickly alert their emergency contacts or the authorities, making it easier to call for help.
Real-time location sharing
Bluetooth SOS button can share your location in real-time with your emergency contacts. This feature is useful for a prompt response and directing help to the right location.
Durable and portable
Bluetooth panic buttons are portable and easy to carry around. They are typically lightweight and can be worn as a keychain or card. Moreover, they are highly durable and can endure harsh conditions, ensuring that they remain reliable during emergency situations.
How to select the right Bluetooth panic button
When choosing a Bluetooth panic button, there are various factors one needs to consider to ensure that it is effective during an emergency. Here are some considerations:
Size and Weight: Opt for a device that is compact and lightweight to easily carry with you wherever you go.
Battery life: Make sure that the Bluetooth panic button you select has a long-lasting battery that can support extended use during emergencies.
Range: It is essential to consider the Bluetooth connectivity range as it can be limited in certain situations, which can affect the effectiveness of the panic button.
Quality and durability: Prioritize a Bluetooth panic alarm button made of quality materials that can endure harsh conditions. Choose a durable button that will last through wear and tear.
Features: Look out for additional features, such as real-time location sharing. Consider whether you prefer a wearable device or a panic button that can be affixed to a wall.
Budget: Bluetooth panic buttons come at varying prices, hence sticking to your budget when making a choice is crucial.
Applications of using Bluetooth panic buttons
Compared to traditional panic buttons, Bluetooth panic buttons are more versatile and effective in a wider variety of situations. Due to heightened awareness of safety measures, these devices are effective in enhancing healthcare, improving workplace safety, and campus security.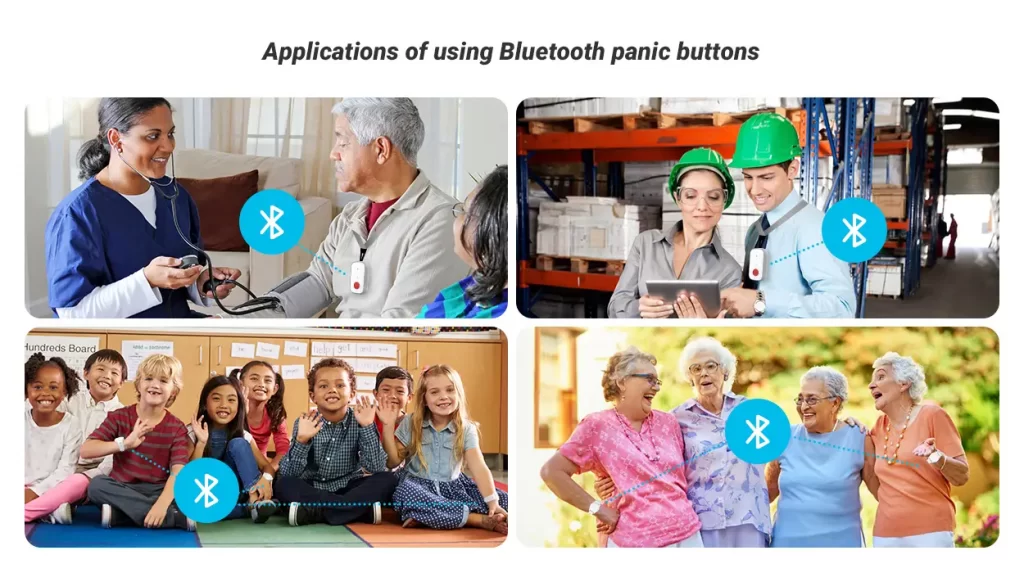 Healthcare
Bluetooth panic buttons are especially useful in healthcare, catering to senior citizens, disabled individuals, and those with chronic illnesses. Integrating BLE and Personal Emergency Response Systems (PERS) opens up opportunities of connected homes for medical alert systems. The global PERS market is expected to reach USD 11.1 billion by 2025.
Workplace safety
Bluetooth panic buttons can also enhance workplace safety, particularly in high-risk environments with inherent dangers such as construction sites and factories. If employees feel in danger, they can press the panic button, alerting emergency responders to take action. Nonfatal injuries resulting from workplace violence account for about 2 million US cases per annum, and Bluetooth panic buttons can help prevent or minimize such incidents.
Campus safety
Bluetooth panic buttons can also contribute to campus safety, empowering teachers, administrators, and students to alert campus security during an emergency. Nearly 95% of US public schools have written emergency response plans that often involve Bluetooth panic button solutions to improve safety.
For elderly people
Bluetooth panic buttons can assist the elderly during emergencies. These devices enable them to call for help instantly when they are in need of medical attention or when issues arise in their homes. By providing immediate support, these devices deliver peace of mind while ensuring their well-being.
Where can I buy the best Bluetooth panic button
If you're in the market for a reliable Bluetooth panic button, MOKOBlue is the best option for those in need of a reliable safety device. Our panic button is compact, water-resistant, and has a long-lasting battery, making it an ideal choice for everyday use. Additionally, our team is ready to provide customized support and firmware services to meet the unique needs of our customers. With our reliable supply chain and certifications, you can trust that our Bluetooth panic button is a top-tier choice for personal safety. Contact our Bluetooth IoT expert to place your order now!