IoT has turned the world of technology upside down and inside out! Our daily lives are now intertwined with IoT devices that range from smart homes to connected cars. In this regard, Bluetooth technology has been at the forefront of enabling many of these connections worldwide. We understand navigating the vast landscape of IoT solution providers can be daunting. That's why we've put together a list of the 10 best Bluetooth IoT solution vendor. So, let's dive in and discover the best Bluetooth brainiacs in the biz.
Why is Bluetooth technology crucial in IoT
Bluetooth technology is an essential component of IoT. It provides wireless communication between devices and facilitates data exchange. These attributes have ushered in an era of smart homes, wearable devices, and other IoT-enabled products that make our lives more comfortable. In essence, Bluetooth technology is secure, scalable, and easy to use for IoT devices.
– Bluetooth technology offers low-power connectivity and flexibility for wireless communication between IoT devices.
– With Bluetooth, devices of various types can easily interact, from smartphones, computers, to IoT-enabled sensors.
– The technology has undergone several updates and improvements, making it a more versatile and robust communication protocol for IoT devices.
What is a Bluetooth IoT solution vendor
A Bluetooth IoT solution vendor is a company or organization that provides solutions for the IoT ecosystem specifically for Bluetooth-enabled devices. These solutions are comprehensive, ranging from hardware devices like beacons and gateways to software platforms and cloud services. These components facilitate not only the interconnectivity of these devices but also data exchange between them and the internet.
From large corporations like Intel and Ericsson to niche startups, there is a wide range of Bluetooth solution providers in this highly competitive market. This reflects the growing need for businesses and organizations to optimize efficiency and streamline operations through Bluetooth-connected devices and data.
By 2024, IoT technology is set to dominate the Bluetooth end-device market, occupying about 31% of the market share. It is expected that Bluetooth shipments for IoT devices will surpass smartphones, fueled by tailored solutions for various industries and the rise of Bluetooth location services. The future of IoT and Bluetooth technology looks promising with ongoing growth expected over the next five years.
Top 10 best Bluetooth IoT solution vendors
As the Bluetooth IoT market grows, we can expect Bluetooth IoT solution vendors to further enhance their services and capabilities. Among them, a few organizations have risen to prominence. The following is a list of the 10 best Bluetooth IoT solution vendors based on their features, product offerings, and customer reviews.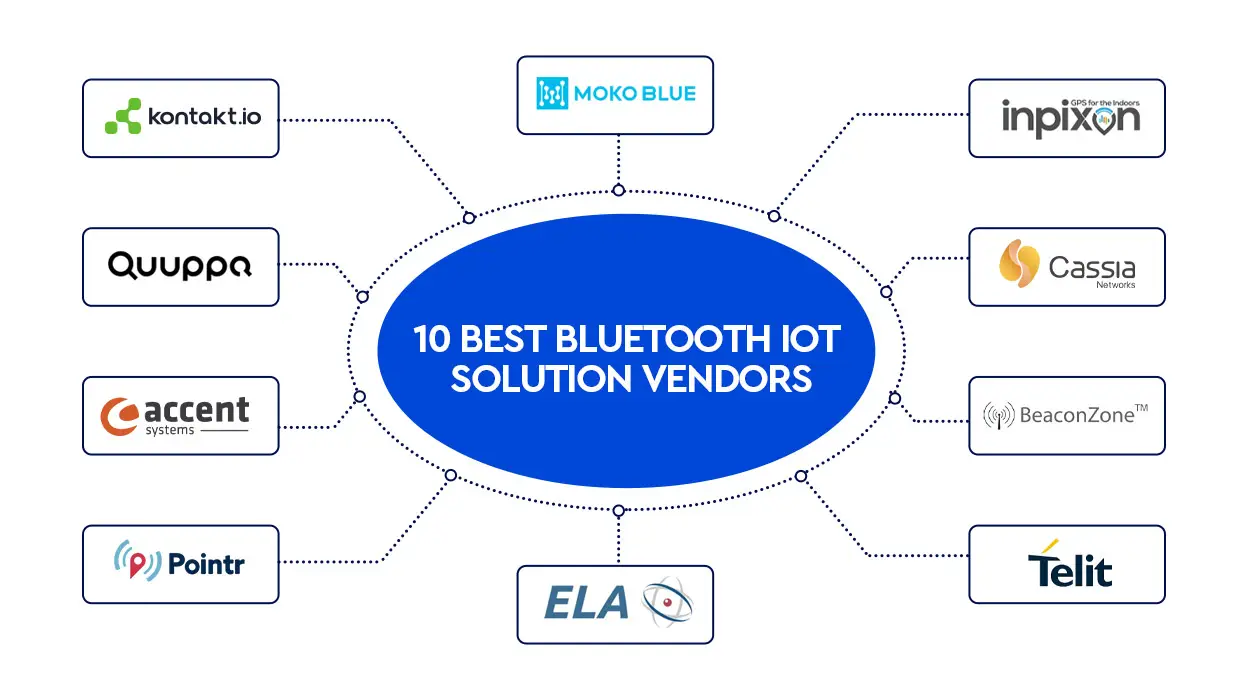 Kontakt.io
Kontakt.io is a renowned provider of indoor location services and Bluetooth Low Energy beacons. Originally founded in Krakow, Poland, Kontakt.io is recognized as an industry leader in delivering advanced solutions for tracking personnel and assets, particularly within the healthcare sector. Furthermore, Kontakt.io offers seamless integration with various building automation systems, providing a holistic solution for indoor positioning and asset tracking.
MOKOBlue
MOKOBlue is a China-based original IoT manufacturer that specializes in producing Bluetooth smart devices. With an extensive portfolio of Bluetooth end devices, the company provides exceptional OEM and ODM services to clients worldwide. Their Bluetooth end devices are used in a wide variety of applications, including healthcare, retail, manufacturing, and smart home. MOKOBlue's design and engineering team helps companies bring their IoT ideas to life with customized firmware, software, and hardware solutions.
Quuppa
Quuppa is a Finnish company that provides high-accuracy Bluetooth positioning systems for industries such as retail, logistics, and museums & events, etc. Their patented technology uses advanced direction finding and location algorithms to provide seamless indoor and outdoor tracking at up to one-meter accuracy. The Quuppa Intelligent Locating System™ provides accurate real-time tracking for tags, devices and sensors with great accuracy.
Accent Systems
Accent Systems is a Spanish company specializing in IoT solutions that integrate Bluetooth technology with smart devices, sensors, and cloud technologies. Their solutions cater to a plethora of track and trace applications, including cold chain monitoring and shipment tracking. Accent Systems stands out by creating IoT devices with live sensors, indoor and outdoor location capabilities, and user-friendly APIs, complemented by their cloud solutions.
Pointr.tech
Pointr.tech is a location-based tech firm that specializes in delivering indoor navigation and positioning solutions using Bluetooth and other wireless technologies. They help businesses in different sectors, including aviation, healthcare, retail, to enhance productivity, optimize workflows, and improve customer experience. Their innovative Deep Location® platform allows companies to create fantastic location experiences and be efficient in their physical space.
Elainnovation
Based in France, Elainnovation specializes in developing IoT solutions such as Bluetooth-enabled sensors and beacons. ELA Innovation's products are designed to last and be eco-friendly, and they have a wide range of uses in industrial scenarios. They offer the largest range of BLE beacons and sensors on the market, and a recent partnership with Wirepas allows them to produce industrial beacons that offer precise indoor equipment and people tracking.
Inpixon
Inpixon is a technology company that specializes in indoor positioning and data analytics solutions. Its real-time location system (RTLS) is useful in monitoring personnel and tracking assets, especially in industries such as agriculture, warehousing, and mining, etc. In addition to indoor positioning, Inpixon offers a variety of indoor intelligence solutions for various industries, including mapping, analytics, and IoT.
Cassia Networks
Cassia Networks is an enterprise-grade Bluetooth IoT solutions provider that offers flexible, scalable, and secure gateways for a range of applications. Its long-range Bluetooth gateways offer reliable personnel and asset tracking IoT solutions by connecting multiple beacons. The solution is beneficial in medical facilities, smart campus solutions, and industrial IoT applications that need long-range Bluetooth IoT solutions.
BeaconZone
Based in London, BeaconZone Ltd offers tracking, sensing, and triggering solutions using beacons. Unlike competitors, the company does not offer hardware, but instead offers an array of beacon products from multiple manufacturers, which aren't tied to particular software platforms. Customers can benefit by exploring beacon solutions beyond retail, industry, and transportation. They also offer consultancy services and develop custom solutions using proprietary software such as BeaconRTLS™ and SensorCognition™.
Telit
Telit, a global firm, provides an IoT platform that connects different endpoints and devices using Bluetooth, cellular, and other technologies. Their primary goal is to assist businesses in creating end-to-end solutions for various industries, including healthcare, smart city, and industrial applications. Telit offers an integrated platform that includes hardware, software, and connectivity services – all of which are easily scalable.
Key factors to consider before selecting a Bluetooth IoT solution vendor
Choosing the right Bluetooth IoT solution vendor is a crucial decision that can impact the success of your Bluetooth IoT project. Therefore, it is important to carefully evaluate various Bluetooth IoT solution providers before making a selection. Some vital considerations to weigh when assessing potential Bluetooth IoT solution suppliers are:
– Experience and expertise in developing Bluetooth-enabled devices and software
– Quality of products and services offered
– Cost-effective pricing models
– Customization capabilities for products and services offered
-The ability to scale services and products for a growing business
– Availability of support and maintenance services
– Compatibility with existing IT infrastructure and platforms
– Flexibility in accommodating changes related to technology advancements
Choosing the best Bluetooth hardware company – MOKOBlue
MOKOBlue is a Bluetooth hardware company that offers a complete solution for Bluetooth-enabled IoT products. They provide hardware, software, and services that enable developers to create IoT products with Bluetooth connectivity. MOKOBlue's products are designed for scalability, security, and reliability.
Features of MOKOBlue as a vendor include:
Complete solution for Bluetooth
Expertise in Bluetooth technology and solution
High-quality hardware products that are designed for IoT applications
Easy-to-use software development tools
Robust security features, including encryption and authentication
Excellent customer support, including technical support and training
Competitive pricing that fits within most budgets
Conclusion
It's important to acknowledge that in the fast-paced world of technology, constantly evolving IoT vendors can be difficult to keep up with. Thus, this list of the 10 best Bluetooth IoT solution vendors in 2023 will provide a useful starting point for those looking to work with the best in the business. While it is vital to consider the various factors when choosing a Bluetooth IoT solution provider, it's evident that MOKOBlue shines in providing reliable and cost-effective Bluetooth-enabled IoT products. Whether you are a developer in the IoT industry or a business owner seeking Bluetooth IoT solutions, consider MOKOBlue for your next Bluetooth IoT project.