Introduction
When it comes to expertise in Bluetooth IoT technology, MOKOBlue leads with over 4 years of experience in the field. Our Bluetooth modules in the industrial sensor networks are founded on Texas Instruments solutions and the Nordic Semiconductor nRF52 series. These high-performing Bluetooth 4.2, Bluetooth 5.0, 5.1, and 5.2 Modules are used for multiple industrial applications. Visit MOKO and get these Bluetooth modules, all readily available with essential external circuitry and certified wireless standards.
Application of industrial sensor networks
Industrial sensor networks have increasingly become popular owing to their litheness in unraveling problems in different application fields. They have the potential to transform your life in various diverse ways. Some of the application domains that the industrial sensor networks have been successfully applied include;
• In agriculture, to monitor temperature and humidity
• In Civil engineering to structure response and manage disasters
• In environmental monitoring
• In-home and office automation and smart environments
• In health applications to administrate drugs in hospitals and Tele-monitoring human physiological information
Components of industrial sensor networks
The essential components found in an industrial sensor network system are;
Sensor node:
It executes processing and collection of data and also communicates with other supplementary nodes in the network.
Relay node:
This midway node transmits data to the adjacent node and enhances the system's reliability of the network.
Actor node:
This high-end node is used to create and complete a resolution depending upon the application requirements.
Cluster head:
This high bandwidth sensing node is used to carry out data aggregation and data fusion roles in industrial sensor nodes. The number of cluster heads inside a cluster depends on the system applications and requirements.
Gateway:
It is a crossing point between outside networks and the sensor networks. Gateway is more potent in its transceiver range, the processor installed in the system, the data and program memory, and its external memory expansion possibility than the cluster head and the sensor node.
Base station:
This astonishing node has high processing capabilities and computing energies.
Design of industrial sensor networks
All industrial sensor networks are aligned with a five-layered architecture.
1. Physical layer – Used in selecting frequencies, encrypting data, and modulation
2. Data link layer – Is a pathway for multiplexing data streams, detecting data frames, controlling errors, and controlling Medium Access.
3. Network layer – This layer uses a unique multi-hop wireless routing code of behavior between sink nodes and sensor nodes to track all information provided by the transport layer.
4. Transport layer – It preserves the flow of data anytime the application layer needs it.
5. Application layer – It creates the software and hardware lower layers crystal clear to the end-user.
Some Bluetooth modules of industrial sensor networks devices available at MOKOBlue are;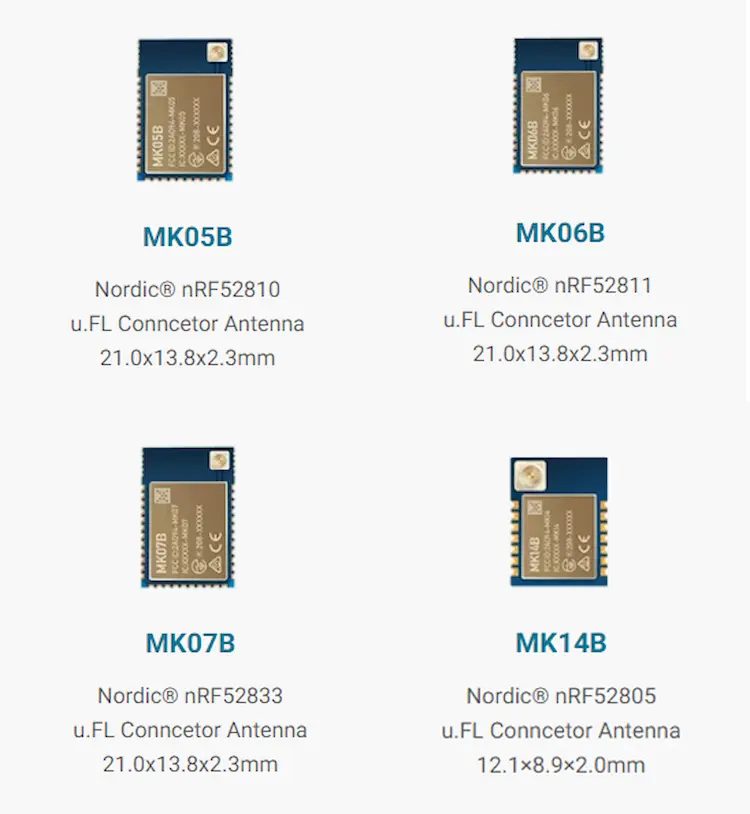 • MK14 nRF52805
• MK05 nRF52810
• MK06 nRF52811
• MK02 nRF52832
• MK07 nRF52833
• MK08 nRF52840
• MK11 CC2642R
• MK15 RTL8762CMF
Features and specification of Bluetooth modules of industrial sensor networks devices
• Dimension: 21.0 x 13.8 x 2.3mm
• Well-supported data rates
o Bluetooth: 2 Mbps, 1 Mbps, 500 kbps, and 125 kbps
o IEEE 802.15.4-2006: 250 kbps
o Proprietary 2.4 GHz: 2 Mbps, 1 Mbps
• Wide-range of supply voltage: 1.7 V to 5.5V
• 256Kb RAM and 1MB Flash
• Complete digital interface set (SPI, TWI, UART, PDM, PWM, QDEC)
• ADC of 12-bit/200ksps
• On-chip DC/DC buck converter
• Co-processor of 128-bit AES ECB/CCM/AAR
• All peripherals have an individual power management system
• 46 GPIOs
Why choose our Bluetooth modules for your industrial sensor networks?
At MOKO, we offer custom-made Bluetooth modules for any industrial sensor network, thereby perfectly meeting your project necessities. Visit MOKOBlue and purchase from the best. We are the most trusted IoT platform as our Bluetooth modules simplify every user's Bluetooth IoT project developments.