Why bank needs to update their marketing ways
Traditional bank marketing had understandably out-lived its time.  According to data from an SPSS analysis, the highest population of Bank users are people between the ages of 18 and 40 with a considerable percentage falling in the lower register (18-25). Unsurprisingly, the long ATM queueing, annoying bank withdrawal, deposit, and customer support protocols are quickly becoming quite unpopular with the generation used to the fast-paced, comfortable digitalization of almost everything in life. Therefore, Banks would be wise to target, satisfy and appeal to such a customer base. To this effect, the adoption of some banking technologies such as touch screen devices, Bluetooth beacons, Biometric identification, virtual tellers, augmented reality and artificial intelligence are crucial to recapturing the interests of their biggest customers-base and making their marketing more efficient. This article would be focusing on the beacon in bank solution.
Bringing digital smarts to personal banking
The world is evolving and banks need to evolve with it to not be left behind. Almost 100% of banks now have a digital application which was unheard of in the past decade. In the US alone, Statista reported almost 200 million users of digital banking.  In contrast to what you might think though, this increasingly digitalizing of the banking system is not really sending physical bank branches parking. In fact, for any banking institution to thrive digitally they must have at least a single physical branch.
Statista survey reported:
About 60% of bank users would rather process their loan application and deposition in a physical bank branch than digitally.
65% of bank users opined that a bank must have physical branches.
25% of bank users said they wouldn't trust a bank enough to open an account if it doesn't have at least a single physical bank branch.
This tells you that Banks don't need to erase their physical branches to have a digital appeal. They only have to find ways to cleverly bring digital smarts into using the physical banks. For digital banking and physical banking to exist optimally, they need to coexist in a hybrid form known as Phygital banking.
Technologies that beacon in bank are to adopting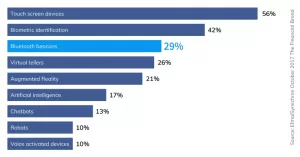 The increasing popularity of Phygital Banking
As you can probably guess from the name 'Phygital.' It's a clever marketing merging of the terms Physical and Digital. Maybe not so clever but, Phygital banking means the optimizing of customers' banking experience with a physical banking spiced-up and implemented with digital technologies.
In other words, the customers get to enjoy experiences from both worlds. This implementation adopts the speed, convenience, etc. of the digital banking system and implements them into the security-of-presence the physical bank gives customers. The use of digital apps by most banks is evident in the Phygital banking system, The Phygital banking is crucial for satisfying the various needs and demands of present-day banking customers, which neither physical banking nor digital banking alone can satisfy.
Some other ways through which Phygital banking can be implemented involve the adoption of some digital technologies such as touchscreen devices, Bluetooth beacons, etc.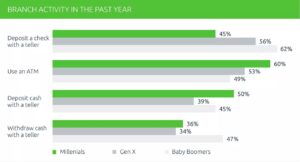 Banks gain relevance with beacon applications; how does work beacon  in bank
Beacons are small Bluetooth-enabled transmitters that can connect and exchange data between other Bluetooth-enabled devices like your laptop, tablet, or even your smartphone within a limited/specified proximity. The data can range from customer's accounts and information updates to engagement intelligence collection and analysis, geared towards boosting sales.
Beacon in Banking is simply the implementation of beacon technology in banking. Beacon which makes use of Bluetooth communication technology is installed within the bank. The bank's beacons signals are then synced with the bank's server and a bank application. The customers can then get the application from the bank. This way, once a customer (who has the app installed on their smartphone and has bank-permitted connection access to the bank beacons) comes within proximity of the bank beacon signal, the signal automatically recognizes the customer and it lets them know this either through a welcome message or question of what they would like to do, or it simply displays the approximate waiting time in the queue to them. This way, the bank gains relevance through:
New customers' acquisition through Beacon-enabled engagement and marketing.
Bank Customers satisfaction with better banking experience.
Banking with a beacon is not only limited to the bank's physical building, bank beacons can also be implemented in other banking facilities such as Beacon-enabled ATMs and also Kiosks.

Why is this moment beaocn in bank moment?
The answer once again revolves around customer satisfaction and the customers in this sense are the main age group percentage of Bank users. The technological advancement had made everything so easy and had in turn made this generation so dependent on technology that they would immediately lose interest in anything seemingly difficult, that requires them to go even a little bit out-of-their-way. Such as having to come to a physical bank branch to check their balance. This though has been solved in part with the use of the mobile app. The current explosive increase in new mobile bank Apps opens the opportunity for banks to implement Beacons into mobile applications. This could lead to:
Improved convenience and overall banking experience for the customers by providing data transmission and capturing options.
Can monitor, analyze, and improve the overall efficiency of Bank branches.
Bank customers choose Mobile-First, not Mobile-Only
According to data from the research conducted by the Deloitte Center for Financial Services analysis on banking systems, the present-day bank users seem to want to adopt a Mobile-First banking approach over the Mobile-Only banking approach. Mobile banking users are slowly overcoming internet banking.
It is a well-known fact that mobile banks almost always go synonymously with bank beacons. The banking shift––from online banking and mobile apps to mobile banking and the use of smartphones––opens the gateway to new location-based marketing channels.
In the banking system, some DCFSS statistical representations of customers' choices on Mobile banking and online banking approach include:
| | Balance Inquiry | Transfer from one account to another | Transfer money to another person | Pay bills | Update account details | International money transfer |
| --- | --- | --- | --- | --- | --- | --- |
| Mobile banking | 56% | 48% | 48% | 41% | 26% | 24% |
| Online banking | 29% | 38% | 38% | 44% | 47% | 53% |

Beacon technology ability to study, record, and analyze customers' behaviors, needs in the bank. Would make the bank come up with better ways to provide services to such customers and might even help in anticipating some of the customers' expected behaviors.  Thereby, optimizing bank-customers interaction and improving operational and services satisfaction.
Through this method, when customers visit a physical bank branch, they know they are getting personalized, top-notch, and also very detailed, and helpful services at little to no stress. And at utmost convenience. Through the various beacon-enabled self-help services.City Banks and Barclays banks (among others) in the US are actively expanding their revenue streams with the use of beacons by steadily increasing their in-bank customers' engagement.
How beacon in Bank can take advantage of Beacon Technology
The use of Bluetooth beacons has the potential to change the public's view on how local bank branches operate. Here are some ways banks can leverage beacon technology to satisfy their customers.
Improving customer beacon in bank
Have you ever waited in line for hours in the bank to get attended to? It can be a frustrating experience, especially if you have somewhere else to be. Well, beacons in banking systems can help make things easier and we'll explain how.
Customers can be allocated to clerks or customer representatives to help them solve their problems, with the use of beacon-enabled banking apps. For instance, a customer – which we'd call Lisa – wishes to make a complaint about a bounced check. Lisa can tell her bank the service she'd like to get during her visit through the beacon app. When Lisa steps into her bank, the bank beacon senses her presence in the building and automatically allocates her to a desk or clerk that will handle her issue effectively. This saves Lisa's time and improves the bank's productivity.
Asides from allocating customers to desks, the 'phygital' banking system can also send personalized messages to customers in the bank, send offers, or conduct surveys when customer presence is detected.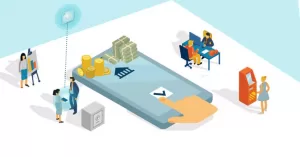 Attracting new and existing customers
How do beacons in banks draw existing customers to banks? You might ask. Let's illustrate with Lisa once more. If Lisa has a pending issue to settle at the bank which she has postponed severally in the past, a beacon-enabled app can help. The beacons can sense a customer within a 50-meter radius or more.
So, when Lisa is close to a branch, she'll receive notifications from her app to visit the bank since she's within the area. These reminders from the app can urge Lisa into the bank to sort out issues and in the process, she gets to see more interesting offers from her bank.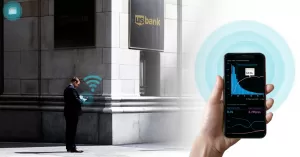 To attract and convert prospective customers, the approach is quite different. Banks can run marketing campaigns via posters or flyers, informing prospective customers about interesting offers. These campaigns will utilize QR codes on ads that you can easily scan with your tablet or smartphone. Upon scanning, the prospective client is redirected to an app store to download the beacon-enabled app.
From this point, a prospective customer can be urged into being an active user of the bank via personalized messages through the beacon banking solution.
More interactive ATM experience with beacon in bank
The customer journey takes time. This is why ads and others sales tools are used daily to guide customers down the sales journey, and this holds irrespective of the sector. ATMs are also strategic locations where banks can send their best offers to customers.
Beacon technology in banking makes it possible to have beacon-enabled ATMs that improve customer experience with ATMs and drive marketing campaigns in the process. Customers within set proximity to the machine can receive warm welcome messages via the beacon app. This helps build personal interactions between the bank and customers. Also, banks can show their best offers to the customers in the process.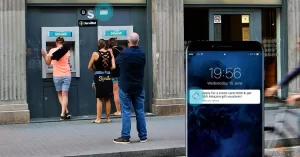 Customers personalized product offers
Beacons can be used to send special product offers, customized to each customers' needs and preference. This way, banks could sell more effectively as it eliminates the waste of marketing resources to people who are not ready to buy. This marketing strategy helps to satisfy for all and appeal to all the stages of customers' experience.
Analysis of Bank branch performance
The performance, loss, profits and general customer data of a bank branch can be obtained and analysed by beacons. The Beacon therefore uses this information to improve the banking operational standard by determining how to better satisfy the customers.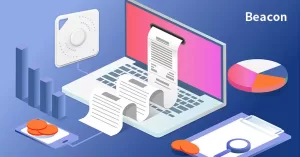 Resurrection of Banks social media
Many banks have no presence on social media. With the aid of beacons, they can create engaging contents and ultimately boost their sales.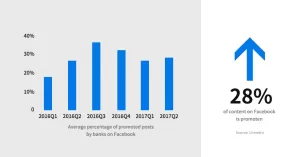 Enough has been said on the possible ways banks can leverage using this technology. Now, getting to the tough question – are beacons for banks worth it? – well, let's find out.
Beacon in Bank: Hit or miss?
Today, we have fewer bank branches than we did 10 years ago.  There was a 10.14% decrease in the number of bank branches in the country (US.) between 2009 and 2017.
This change is strongly backed by improvements in technology which have made banking easier. Some fear this might be the end of traditional branch banking methods with mobile and web applications being the go-to channels for several individuals, especially millennials.
Banks can make these technological advancements work for them by utilizing asset beacons in banking activities. If leveraged properly, the overall user experience of customers will improve in-branch banking and customers can be engaged more by their banks. This cements trust and bond between customers and the bank.
Also, banks can get useful data from this technology. Like:
The time it takes a customer to complete a particular transaction
Hectic days at the branch and the time they occur
The customers using branches and
Real-time customer feedback.
Banks can use information gathered in optimizing and bettering their customers' banking experience. These benefits make beacon in banking an attractive tool that is worth trying.
Banks in the U.S. including Citibank and others are starting to adopt this technology. However, its use has concerns in the hearts of many. Hence, we'll answer some questions often asked about the beacon banking solution.
Frequently Asked Questions about the use of Beacons in the banking sector
Is it safe to use beacons in banks?
Misconceptions over the capability, functions and danger of beacons had been garnered in recent years. Some feared beacons will steal user data. However, this is false. These can be likened to security cameras – it detects you when you're within its range. Security cameras don't cause harm, they are used to monitor activity within an area. This is also true for beacons.
Information isn't taken from your mobile phone. Rather, banks are alerted when a customer is within its proximity. They also inform the banks how long you spend within a branch. Beacons aren't designed to extract data from your smartphone, it operates on a one-way broadcast system.
Is there a risk of the device being hacked?
Several security protocols are put in place by beacon manufactures to ensure hacking or spoofing doesn't occur. The manufactures ensure communication between beacons and smartphone apps are encrypted by operating systems such as Google's Android and Apple's IOS.
Asides from encrypted communications, the manufacturers use complex administrator passwords which are unique in every regard to configuring beacons. This ensures passwords are not easily broken in cases of intrusion.
Furthermore, more work is being done in the beacon market to protect users from every possible form of hacking of beacons in the banking sector.