Beacon Bluetooth module is a set of hardware transmitters capable of broadcasting their identity to nearby devices. They are powered by batteries and use Bluetooth low energy (BLE) that easily aids in the transition of signals to receiving devices or systems with BLE scanners within a certain range. They serve as a communication bridge by making a connection between the digital and physical world to those carrying enabling devices.
It utilizes the BLE proximity sensing to broadcast a generally distinct identifier that is picked up by the app or operating system that has the same compatibility. The distinct identifier and several bytes sent with it are then used to determine the physical location, track down customers or initiate other location-based actions and lots more.
The Bluetooth beacon majorly consists of:
A small microprocessor (CPU)
A battery (usually small Lithium chip batteries)
A radio
Cases of Bluetooth beacon modules:
Since its inception, Bluetooth beacon modules have been utilized in several capacities and for diverse purposes. An example is the Donald Trump Digital Election Campaign, The Nagoya University Hospital, which uses technology to provide better service for its patients.
Features of the Bluetooth Beacon Modules
It can link up with any BLE-enabled device
They are easy to install and cheap
The cost of maintenance is usually minimal
The bluetooth broadcast and scan protocol is used to communicate
Power energy usage or lesser power consumption
Guarantees long lasting usage
Functions of Bluetooth Beacon Module
For data collection and transmission
For the control of objects that are not within your proximity
For communication between devices (inter-device connectivity)
Certain tasks can be performed automatically with the help of the Bluetooth beacon module
Bluetooth Beacon and MOKOBLUE
Mokoblue is a widely known and trusted manufacturer of several Bluetooth modules. The Bluetooth beacon is one of such devices. Years of manufacturing quality products and highly effective products have made MOKOBlue one of the major Home of the Bluetooth beacon module.
Some of Bluetooth beacon made by Mokoblue are listed as follows;
M2 Asset Tracking Beacon
W5 Wristband Beacon tracker
W3 Pro Medical Beacon
H2A Location Beacon
H1 Keychain Beacon
H2 Navigation Beacon
H3 Badge Beacon
H4 Sensor Beacon
Bluetooth modules designed by Mokoblue for effective transmission between devices are;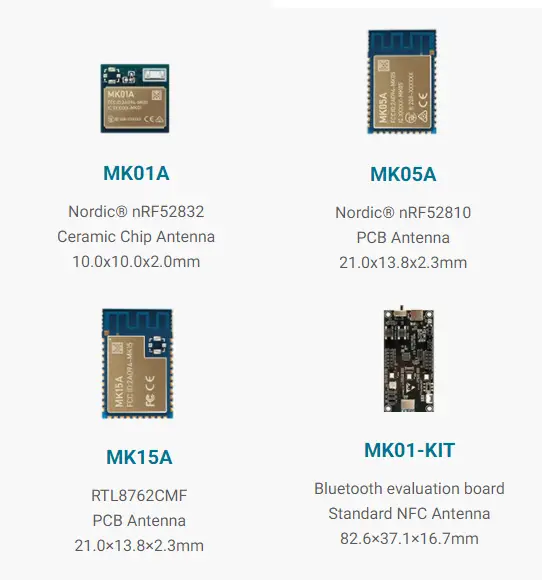 MK01A (Nordic nRF52832 Ceramic Chip Antenna 10.0×10.0x2.0mm)
MK05A(Nordic nRF52810 PCB Antenna 21.0×13.8×2.3mm)
MK01-KIT (Bluetooth evaluation board Standard NFC Antenna 82.6×37.1×16.7mm)
MK15A (RTL8762CMF antenna 21.0×13.8×2.3mm) and several other Bluetooth modules.
Why Choose Our Bluetooth Modules for Your Beacons?
Mokoblue not only provides a high-quality product, but also a varied range of products to meet your specific needs. Mokoblue Bluetooth Modules allow you to provide your customers with the best service possible. We ensure that our beacons will be of good quality, user-friendly, and long-lasting.